If you're keen to learn how to enter and exit recovery mode on your Samsung galaxy Z Flip 5, then look no further. The Samsung Galaxy Z Flip 5 is a marvel of modern smartphone technology, featuring a foldable design and a plethora of advanced features.
However, like any electronic device, it may encounter issues from time to time that require special attention. This is where the Recovery Mode comes into play. Whether you're a tech enthusiast or a casual user, understanding how to enter and exit Recovery Mode on the Samsung Galaxy Z Flip 5 can be incredibly useful.
Recovery Mode is a special bootable partition present in Android devices that provides various tools and options for troubleshooting and maintenance. It allows users to perform tasks such as installing system updates, wiping cache partitions, and even performing a factory reset. While it's not something you'll use on a daily basis, knowing how to access Recovery Mode can be a lifesaver when your device is acting up.
Watch this: How To Change Cover Screen Wallpaper On Samsung Galaxy Z Flip 5
Enter Recovery Mode on Samsung Galaxy Z Flip 5
Start by connecting your Galaxy Z Flip 5 to a computer that is on, using a data cable.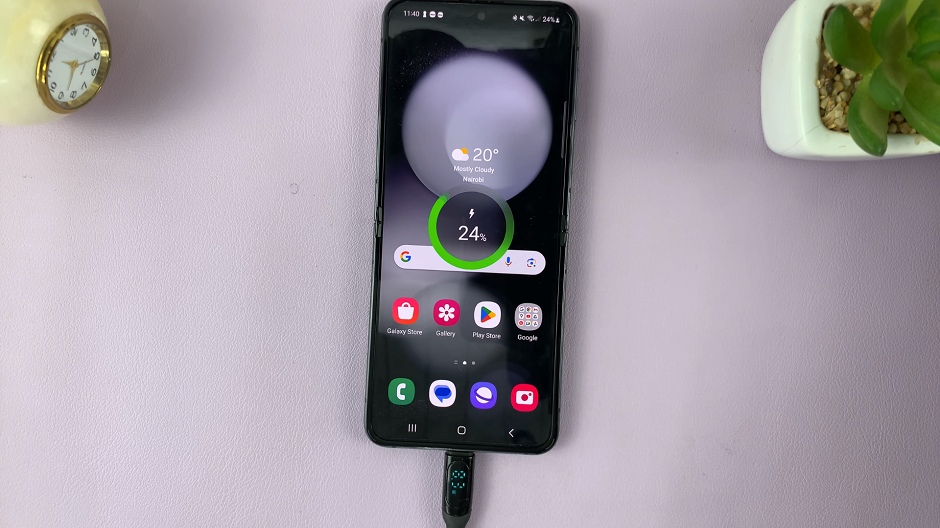 Then, proceed to power off your Samsung Galaxy Z Flip 5. You can use any of these methods to switch off the device.
Once the device is completely powered off, press and hold the side key and the Volume Up button simultaneously. Keep holding them until the Samsung logo appears on the screen.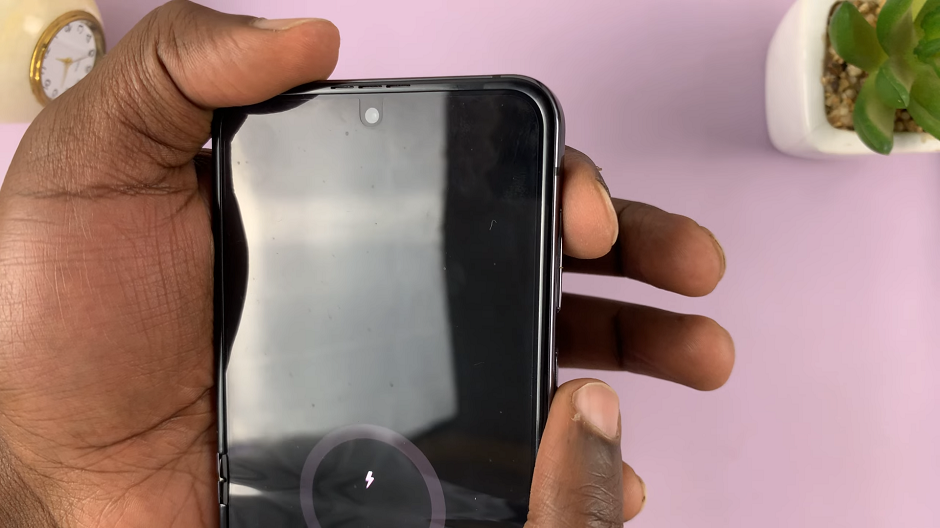 When the Samsung logo appears, release the side key, then release the Volume Up button. This will take you to the Recovery Mode menu.
Use the volume rockers to navigate through the menu and the side key to select the option you want. this is because the touch screen does not work in recovery mode.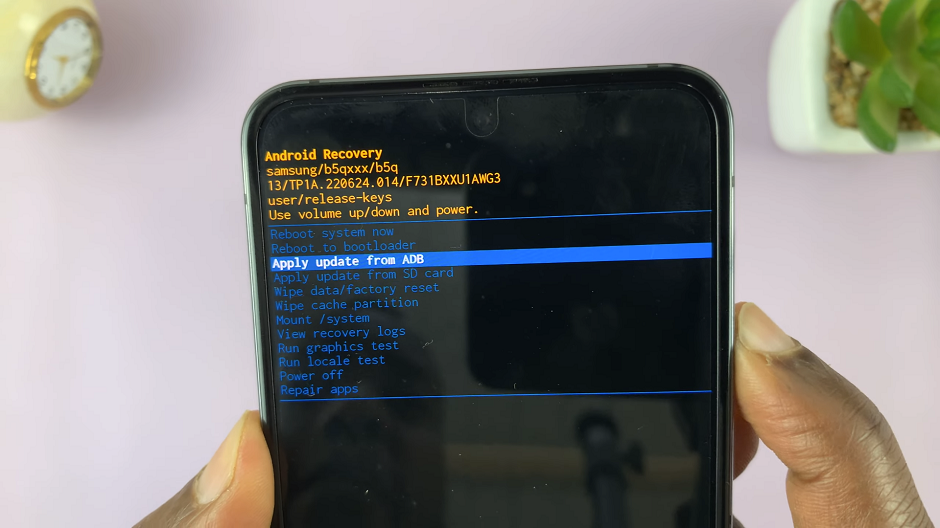 Exit Recovery Mode on Samsung Galaxy Z Flip 5
Exiting Recovery Mode is as simple as rebooting your device. To do this, use the volume rockers to navigate through the menu until you get to Reboot System Now. Select the option to reboot your Samsung Galaxy Z Flip 5, using the side key.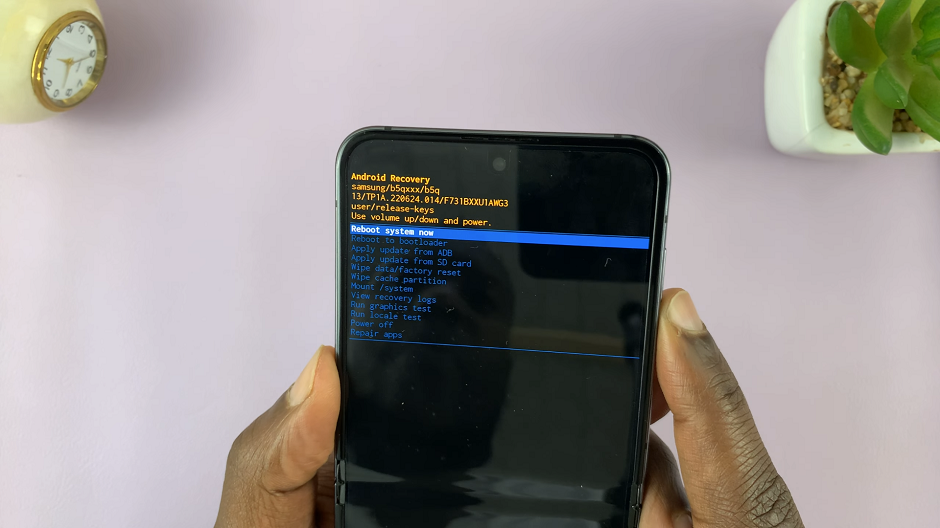 The device will restart. Once your device boots up normally, you're back to your standard user interface.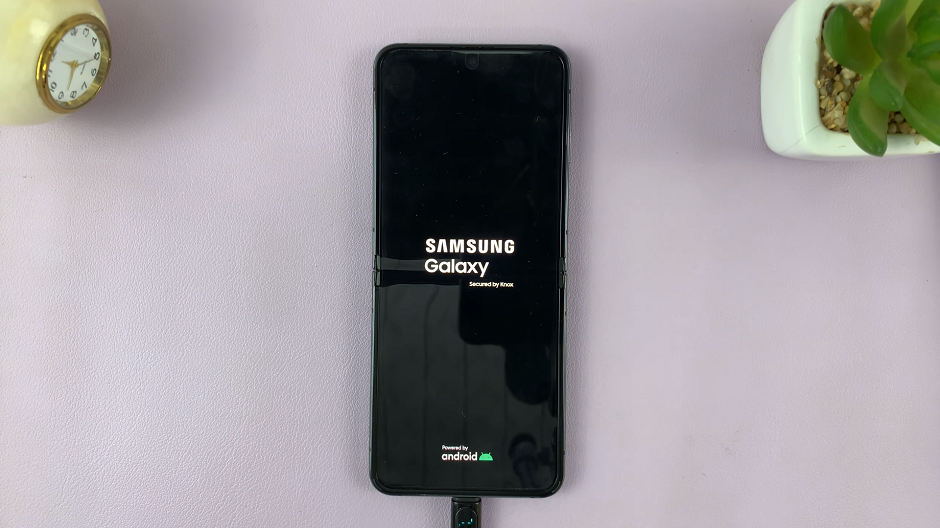 Navigating Recovery Mode
Use Volume Buttons: In Recovery Mode, you won't be able to navigate using touch. Instead, use the Volume Up and Volume Down buttons to move through the options. Use the Power button to select an option.
Wipe Cache Partition: If your device is sluggish or experiencing app crashes, you might want to try wiping the cache partition. This can help clear out temporary files that could be causing issues.
Factory Reset: If all else fails and your device is still malfunctioning, you might consider performing a factory reset from Recovery Mode. Keep in mind that this will erase all data on your device, so make sure you have a backup.
Stay Calm: While Recovery Mode provides powerful tools, it's essential to approach it with caution. Take your time, read the options carefully, and make sure you understand the consequences of your actions.
Learning how to enter and exit Recovery Mode on the Samsung Galaxy Z Flip 5 can be immensely helpful when troubleshooting issues or performing maintenance on your device. It empowers you to take control of your device's functionalities, ensuring a smoother and more enjoyable user experience. Remember to use Recovery Mode wisely and back up your important data regularly to avoid any potential mishaps.
By following the simple steps outlined in this guide, you can harness the power of Recovery Mode and make the most out of your Samsung Galaxy Z Flip 5.
Read More: How To Turn OFF & Restart Samsung Galaxy Z Flip 5