In this guide, we'll walk you through the simple steps to change the Bluetooth name on your iPhone 15 and iPhone 15 Pro. The iPhone 15 and iPhone 15 Pro are powerful devices known for their cutting-edge features and sleek design.
One of the customizable features that often goes overlooked is the ability to change the Bluetooth name. This can be particularly handy in crowded environments or for personalizing your device. Before we delve into the steps, you might wonder why changing your Bluetooth name is beneficial. Well, here are a few reasons:
Personalization: Giving your iPhone a unique name adds a personal touch to your device, making it stand out in a sea of generic names.
Easy Identification: In environments with multiple Bluetooth devices, a custom name makes it easier to identify your iPhone quickly.
Security: A custom Bluetooth name can help prevent accidental connections to other devices with similar default names.
Watch: How To Close Background Apps On Apple Watch In WatchOS 10
Rename Bluetooth On iPhone 15 & iPhone 15 Pro
Begin by unlocking your iPhone 15 or iPhone 15 Pro. Ensure you have access to the device settings.
Go to the home screen and locate the Settings app. It typically looks like a gear icon. In the Settings menu, scroll down and select General. This will open a new set of options.
Within the General settings, you'll find an option labeled About. Tap on it to proceed.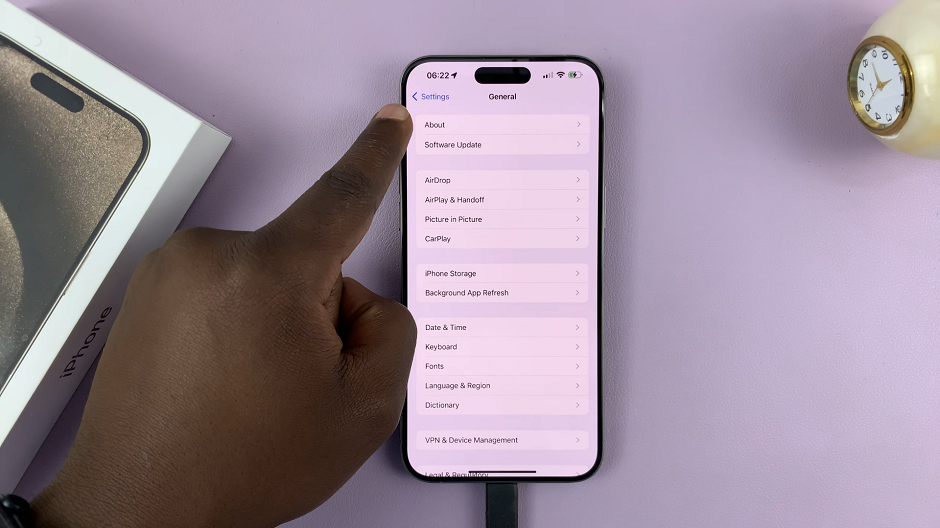 In the About section, you'll see various details about your iPhone. Look for the field labeled Name at the top and tap on it.
This is where you can edit the name of your iPhone. Delete the existing name and enter the new name you'd like to assign to your device.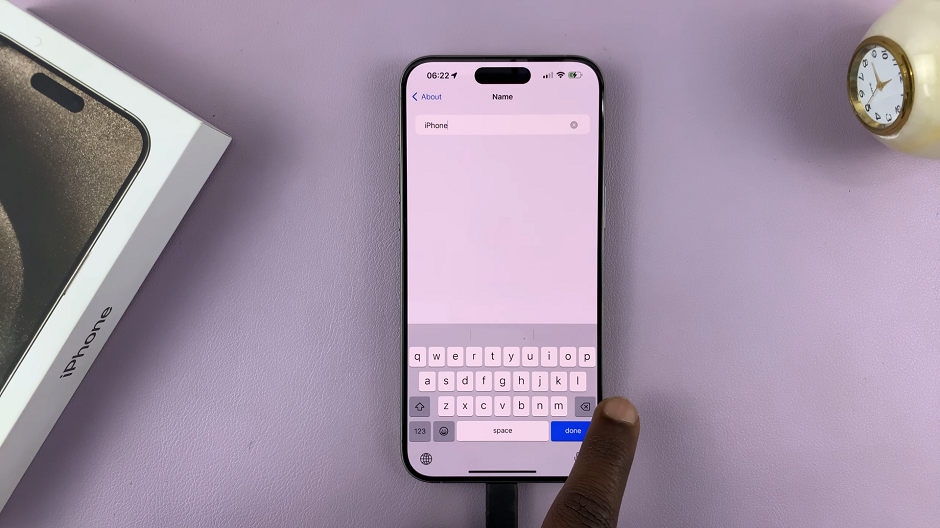 After entering the new Bluetooth name, press Done on the keyboard to save the changes. Your iPhone will now be identifiable with the new name when connecting via Bluetooth and any other service that requires the iPhone's name.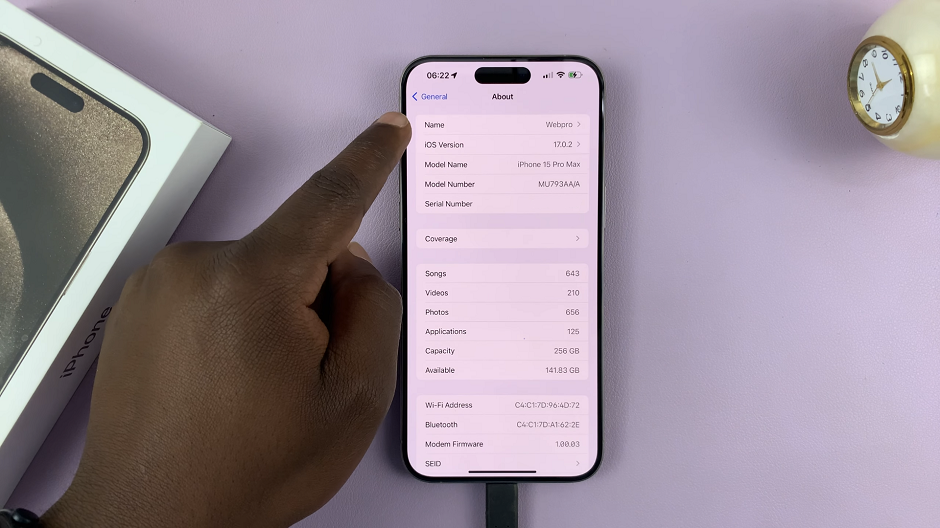 Tips for Choosing a Bluetooth Name
Be Unique: Choose a name that is distinctive and not likely to be confused with other devices in your vicinity.
Avoid Sensitive Information: Don't use personal information or sensitive data as your Bluetooth name for privacy and security reasons.
Keep it Clean: Opt for a name that is appropriate and inoffensive, especially if you'll be using it in public spaces.
Mind Special Characters: While many special characters are supported, be cautious as some devices may have limitations on which characters they can display.
Customizing the Bluetooth name on your iPhone 15 or iPhone 15 Pro is a simple yet effective way to add a personal touch to your device. Whether you're in a busy office or a bustling café, your iPhone will now be easily identifiable. Follow these steps and choose a name that resonates with you, and make your iPhone truly yours.
Read: How To Stop Screen Mirroring iPhone 15 & iPhone 15 Pro To Smart TV