Steam allows users to add their credit card information to enable them to purchase games. The credit card information is saved on Steam and will be used when making a purchase. It helps the users save time while purchasing games from Steam, instead of manually typing in your card information.
If you save your credit card information on Steam, there are risks such as hacking, in which your credit card information can be stolen. This can be a good time to remove your credit card information from your Steam account. Once you remove your credit information, it will be unlinked to your Steam account. You have an option to edit your credit card details if you'd like to change them.
Watch: How To Install Steam On Mac
How To Remove Credit Card From Steam
To remove your credit cards from Steam, follow the steps below.
First, launch your Steam application on your PC or Mac and sign in to your account when prompted.
Next, on the top right corner, click on your Steam username then click on Account Details.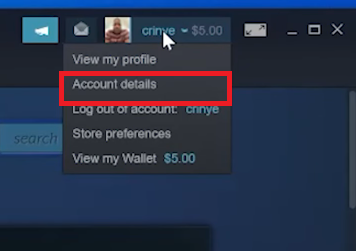 Under the Store & Purchase History, click on the Delete option in front of "Visa ending in XXXX". This will delete the payment method that you have in your Steam account. However, if you wish to change your payment method, you can click on Edit and follow the instructions provided.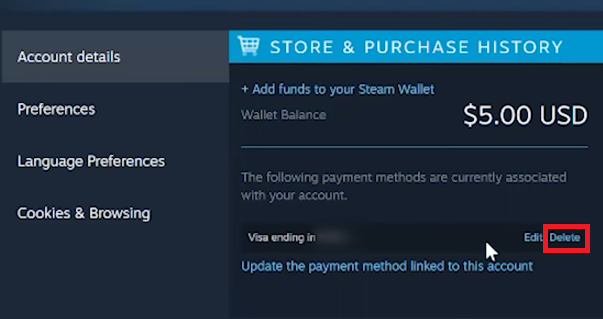 Once done, your payment method will be removed from your Steam account. And that's how to go about it. In case you encounter any challenges, please let me know in the comment section below.
You can also read on: How To Back Up PS5 Data to PS+ Cloud