Are you aware that Craigslist receives almost fifty billion page views per month? This proves that Craigslist, is a good site to post an ad for free. The interface might not seem impressive but it sure is an effective site to buy and sell.
The beauty of Craigslist is that you can post an ad without even creating an account. And the ads are very effective because of classification and good posting.
Posting an ad on Craigslist is incredibly easy but you need it get it right for your ad to reach the intended targets and be effective. So here's how to place an ad on Craigslist correctly.
How To Place An Ad On Craigslist
Visit Craigslist. Ensure you get the address right. As soon as you load the URL,  the website will determine your location an automatically give you your country's custom address. For instance, mine gave me kenya.craigslist.org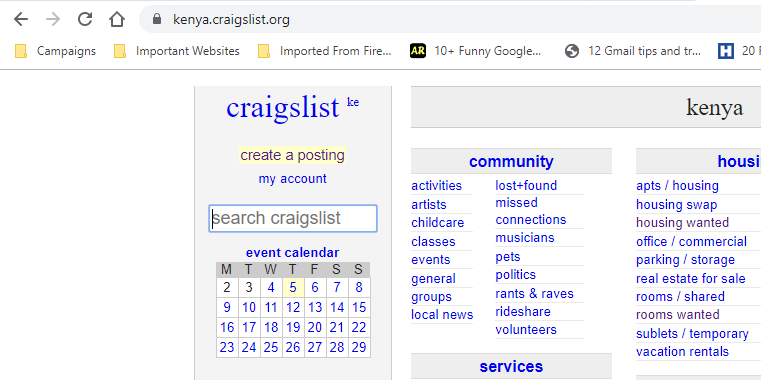 Click Create a posting. Select a category you like for you ad, from the list of posting types. Depending on the type of ad, you wish to post, you may be asked to choose additional categories. A good example is an ad talking about a sale. You can select a more specific category for your ad, such as for sale by owner / for sale by dealer and a more precise location.
Choose a title for your ad that's precise and clear. Then write a description and don't leave out any important details. Ads with sketchy descriptions raise suspicion and drive away potential clients.
Craigslist requires your email address twice, but the service fortunately will not share it with your potential buyers unless you choose to.
If the type of ad you're posting requires you to post images, post enough clear and detailed images of whatever it it that you're trying to sell or buy from Craigslist.
Confirm everything is accurate then click publish. To make changes, click edit text/edit images. Craigslist will send you an email, to confirm your ad. Open your email, then click the confirmation link. Your post will appear after fifteen minutes in Craigslist.
How To Edit/Delete Ads On Craigslist
If you want to Edit your ad you posted on Craigslist, then click on 'Edit' next to the ad. The website will send an Email to the person who posted with the address they provided while posting. So check your email and follow the 'Edit link' to be able to Edit your ad or the 'Delete link' to delete your Craigslist ad.
If you have a Craigslist account, you can make edits from your account homepage without the need for the website to send confirmation emails.
Also read: The Best Places To Download Free Ringtones