Gone are the days of dealing with cumbersome scanners and piles of papers scattered across your desk. Thanks to the ingenuity of modern technology, your iOS device can now double as a document scanner, allowing you to digitize anything from important contracts to your grandma's cherished cookie recipe.
Your iPhone or iPad can now become a one-stop shop for scanning, signing, and sharing documents with teammates, friends, or family. Imagine the convenience of having everything you need right at your fingertips, without the clutter and hassle of yesteryear.
As you explore the various scanning options available on your iOS device, you'll quickly find the perfect method to suit your needs and help you embrace your newfound digital prowess. Welcome to the world of simplicity and efficiency, all thanks to the power of the technology you hold in your hands.
source: vox-cdn.com
How to Make Quick Scans on iPhone: 7 Methods
You are free to choose how to scan docs, but let's give a hint, a stationary scanner is not the best idea at all. We will offer alternatives that will be much more practical.
#1 PDF Scanner App
PDF scanner app is the best document scanner. It guarantees not only rapid processing but also the finest image quality, ensuring that no detail is lost in the transition. Moreover, you can effortlessly rectify color imbalances and perspective issues, thanks to the powerful scanner technology. This is especially useful when you need to scan docs IDs.
This user-friendly app makes scanning and combining multiple pages into a single document an absolute breeze, so you can easily convert PDF to docs. Here you can download on IOS and immediately start enjoying the benefits of the service. With the OCR scanner app in place, quickly extract crucial segments of text from your scanned images, and save valuable time by eliminating the need to retype. This scanner app is undoubtedly an essential tool to elevate your scan docs experience to new heights with remarkable efficiency and ease.
#2 Notes
This is the best iPad scanner for those who don't want to install additional apps. Imagine being able to effortlessly scan and preserve important paper documents, receipts, or any other item using just your iPhone. By simply ensuring that your iOS device (that can be an iPhone, iPad, or even iPod Touch) is updated to iOS 13 or later, you can easily digitize those essential files.
Place the paper on a flat surface, making sure its color contrasts with the background for optimum scan quality.
All you need to do is open the Notes app, create a new note, tap the camera icon, and select "Scan Documents."
Hold your device steadily over the document, and within moments, it will automatically turn yellow before capturing the image.
You can repeatedly scan multiple documents or manually tap the Scan button. To further perfect your scanned document, use the corner circles to adjust its dimensions.
#3 Files App
Transform your device into a convenient scanning tool by simply opening the app and placing the desired paper on a flat, contrasting surface. This will enable the app to easily detect the document and produce a high-quality scan. Navigate to the Browse section, located at the bottom right of your screen, and explore the various locations to save your scanned masterpiece, with options such as On My iPhone or the ever-reliable iCloud Drive. Next, tap the three dots at the top right, select Scan Documents, and marvel as your camera springs to life.
#4 Continuity
Apple's sleek and innovative Continuity feature offers its users a harmonious blend of convenience and efficiency across multiple devices, including the iPhone, iPad, and Mac. With seamless integration, Continuity ensures that your Apple devices work hand in hand to create a more cohesive user experience. One particularly useful aspect of this feature is the ability to scan photos or documents using your iPhone or iPad and have them instantly appear on your Mac. This process is incredibly simple, involving just a few steps within supported applications such as Mail, Messages, and Notes. Not only does Continuity bring the power of Apple's ecosystem to your fingertips, but it also promotes a smooth workflow, making it easier than ever to tackle everyday digital tasks like scanning documents. There's no doubt that Continuity stands as a testament to Apple's commitment to enhancing the lives of its users through innovative technology.
#5 Adobe Scan
Transform your iPhone into an all-in-one office tool by making use of its auto-capture mode – just position your device over a document and watch as Adobe Scan works its magic. Moreover, this handy app is free to download, making it accessible to a wide audience. Adobe Scan boasts intelligent text recognition and a variety of advanced features that allow you to organize, enhance, and edit your scanned documents. Bid goodbye to cumbersome scanning processes and embrace the future with Adobe Scan; the premium features are just the cherry on top.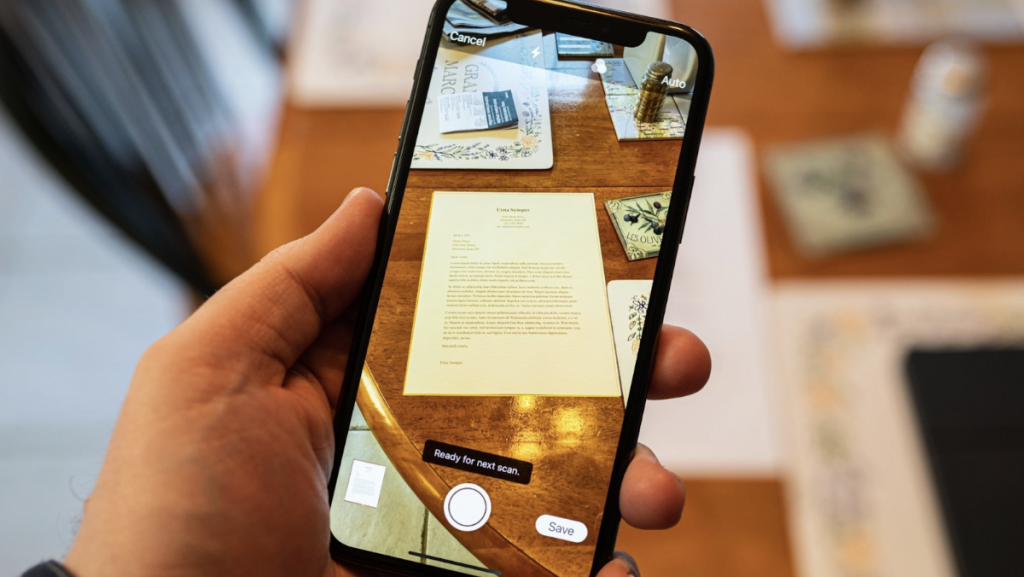 source: futurecdn.net
#6 Microsoft Office Lens
Are you tired of struggling with scanning and emailing documents using your iPhone? Look no further! Microsoft Office Lens is the perfect app to solve your woes. Not only can it seamlessly convert scanned images into multiple formats, including PDF, Word, Excel, and PowerPoint files, but the app ensures easy storage by allowing you to save your document directly to your device or to cloud servers such as OneNote and OneDrive. One notable feature of Microsoft Office Lens is its ability to scan a whiteboard, enabling you to effortlessly retain notes from meetings or classes. Mastering the art of scanning with your phone is simple — just download the app, provide access to your camera, and choose the desired file type. Positioning your phone correctly will have you scanning documents and whiteboards like a pro in no time.
#7 Scanbot SDK
What sets this apart from other scanning software is its superior output quality and user-friendly interface. In addition to that, Scanbot SDK takes privacy concerns seriously, ensuring that all necessary security measures are in place to protect the confidentiality of your documents. Users can also appreciate the automatic scanning, time-saving editing features, as well as intuitive blur detection technology that refines your scanned files. What makes it even more practical are the additional filters available to help you enhance your files and cater to your specific needs.
Conclusion
From quick scans for casual use to professional-grade scanning for work, each of these apps offers something unique that can benefit its users. Whether you're looking for enhanced security measures or automated scanning technology, there are plenty of options out there to choose from. So go ahead and explore the world of mobile scanning – who knows what computational possibilities await!