Internet Explorer is the browser found in every Windows computer by default. Many users find this browser good enough and don't feel the need to use others.
While using Internet explorer,  the browser records (saves) you browsing history. Usually, it's helpful to have this information stored on your computer—it can improve your web browsing speed and also save you from having to type the same information over and over.
To view your browsing history on internet explorer,  Click on the favorites icon.  Then from the window that pops up,  select 'History'.  You can choose to view your browsing history in the order you like.  e.g. By date, Most visited e.t.c.
To delete this browsing history, Click the Tools button
, point to Safety, and then click Delete browsing history. Select the types of data you want to remove from your PC, and then click Delete.
Keyboard shortcut: CONTROL + SHIFT +DELETE  while the browser is open.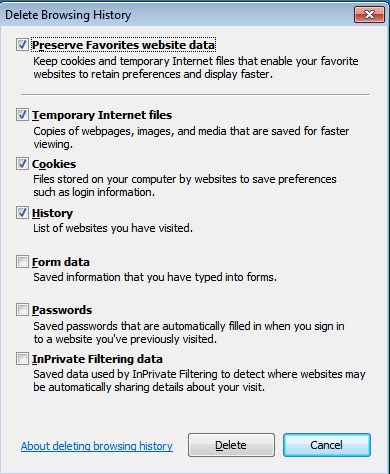 Select the types of data you want to remove from your PC, and then click Delete. The history you selected will be deleted from your computer immediately.
Delete Browsing History From the Internet Explorer app.
If you are using a Windows phone or Windows tablet,  you have internet explorer installed.  To delete the browsing history from the app, Swipe in from the right edge of the screen, and then tap Settings. If you're using a mouse, point to the lower-right corner of the screen, move the mouse pointer up, and then click Settings.
Tap or click Options, and under History, tap or click Select. Select the Browsing history check box,  and then tap or click Delete.