While cookies are important for customizing and streamlining our browsing experience, there comes a time when you need to clear cookies in your browser.
Maybe the browser is getting slow or some login details are getting jumbled up and you can't log in to a website. There are several situations that call for Deletion of cookies. Here's how to clear cookies on Firefox browser for both Desktop and Mobile.
How To Clear Cookies On Firefox
To clear cookies on Firefox browser for PC, launch the browser, click on the menu in the top right corner and select 'Library'. Under library,  click on 'History' then click on 'Clear recent History'.
A small window will pop up. You can select or de-select anything else you want to clear together with the cookies using the check boxes provided.  Also,  select the amount of time you want to clear cookies for from the drop down menu at the top.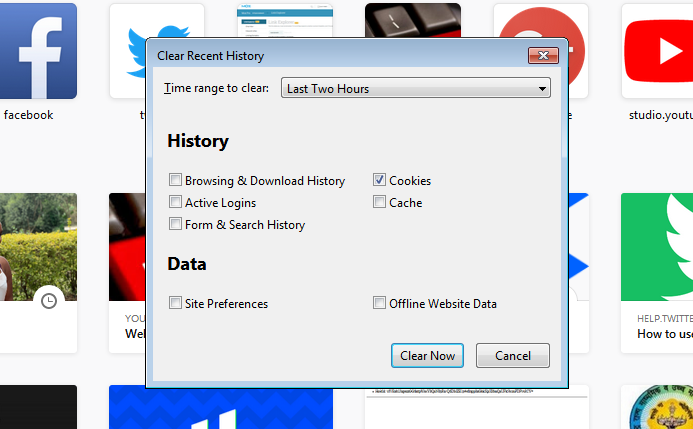 Then click on the 'Clear now' button to delete cookies on Firefox. This is a very straight forward method that clears cookies immediately.
How To Block cookies in Firefox:
The Firefox browser is designed to store cookies by default to enhance your browsing experience. If you don't want it collecting and storing cookies, you can stop it! You can also enable cookies if they are disabled.
Click on the Firefox menu in the upper right corner, select Options. (Mac users 'Preferences'). Then Click on Privacy & Security tab on the left hand side panel.
Scroll down to the 'Cookies and Site Data' section.  Check the box next to 'Block cookies and Site Data'.  Now your firefox browser will stop saving your cookies.
How To clear cookies On Firefox [Android]
For Android users, the process is also simple. Launch the browser on your Android phone or tablet. Tap on the menu and select 'Settings'. On the settings page,  tap on 'Clear private Data'.
Tap on clear Now at the top of the page. Make sure 'Cookies and Active Logins' is selected.  You can un-check the other options if you don't intend to delete those. Then click on 'Clear Data'.
How To block cookies on Firefox for Android:
Don't want your browser picking up cookies any more? Tap on the menu and select settings. On the settings page, tap on 'Privacy'. Then tap on 'Cookies'.  Select 'Disabled' in the pop up menu.
How To Clear Cookies in Firefox [iOS]
Having the Firefox browser in your iPhone or iPad will not stop you from clearing cookies. Launch the browser,  tap on the menu at the bottom and select 'Settings'.  Tap on 'Clear Private Data'.  Select 'Cookies' and tap on 'Clear Private Data' at the bottom.
Also Read: How To Clear Cookies In chrome