In the era of modern smartphones, security measures like passwords, PINs, and patterns play a crucial role in safeguarding our personal data. However, there are instances when we forget these security codes, locking ourselves out of our devices.
If you own a Galaxy Z Flip 5 and find yourself in such a situation, don't worry – you have the option to perform a hard reset and wipe the data to regain access to your device.
Here's a step-by-step guide on how to hard reset your Samsung Galaxy Z Flip 5.
Watch: How To Clear Cache Partition On Samsung Galaxy Z Flip 5
To Hard Reset Samsung Galaxy Z Flip 5
Keep in mind that performing a hard reset will wipe your personal information and data stored on the phone.
Firstly, connect your phone to a PC or laptop. Next, you need to turn off your phone. This might be challenging since you don't have the passcode or pattern. Worry not. To force the shutdown of your Samsung Galaxy Z Flip 5, press the power button + volume down button until the phone is off. 
Next, continue pressing the power button but now switch to the volume up button to enter the recovery mode. Release the buttons once you see the Samsung logo appear. This will take you to the recovery mode menu on your Galaxy Z Flip 5 phone.
Scroll down using the volume down button and select Wipe data/factory reset using the side key button (power button).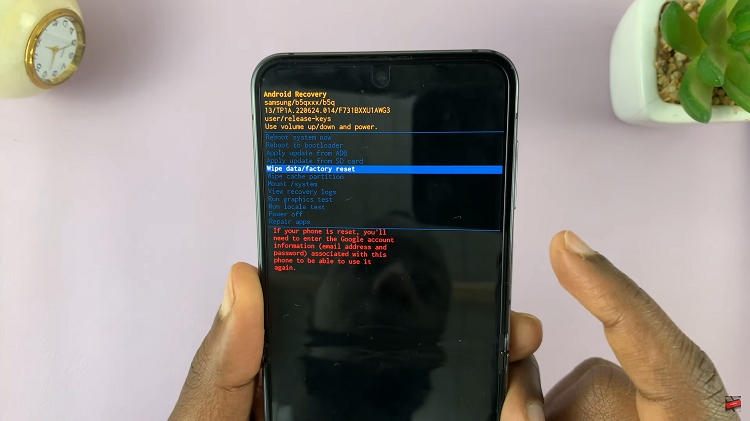 Next, select Factory Data Reset to confirm the changes. Remember once you do this, you will not recover your data. Afterward, select Reboot Now from the menu to boot your phone up. Once the phone boots up, you'll need to set up the phone again. You'll be required to use your Google account to set it up.
And that's how to go about it. Let us know in the comment section if you have any questions or suggestions. If you found the article helpful, consider sharing it with your friends.
Read: How To Change Cover Screen Wallpaper On Samsung Galaxy Z Flip 5