The Samsung Galaxy Z Flip 5 is undoubtedly a marvel of modern technology, boasting a sleek design and cutting-edge features. However, even the most advanced devices can encounter issues from time to time. One such frustrating problem is the 'Screen Not Going Off' glitch that some users experience when charging their Z Flip 5. If you're facing this issue, don't worry – we've got you covered with a step-by-step guide to troubleshoot and fix it.
Before delving into the solutions, let's understand the problem at hand. Some Z Flip 5 users have reported that their device's screen doesn't turn off as expected when plugged in for charging. This can be annoying, as it not only consumes additional battery power but can also cause unnecessary distractions.
Watch: How To Enter / Exit Recovery Mode On Samsung Galaxy Z Flip 5
There are several factors that could contribute to this problem:
Software Glitch: Sometimes, a temporary software glitch can prevent the device from entering sleep mode when charging.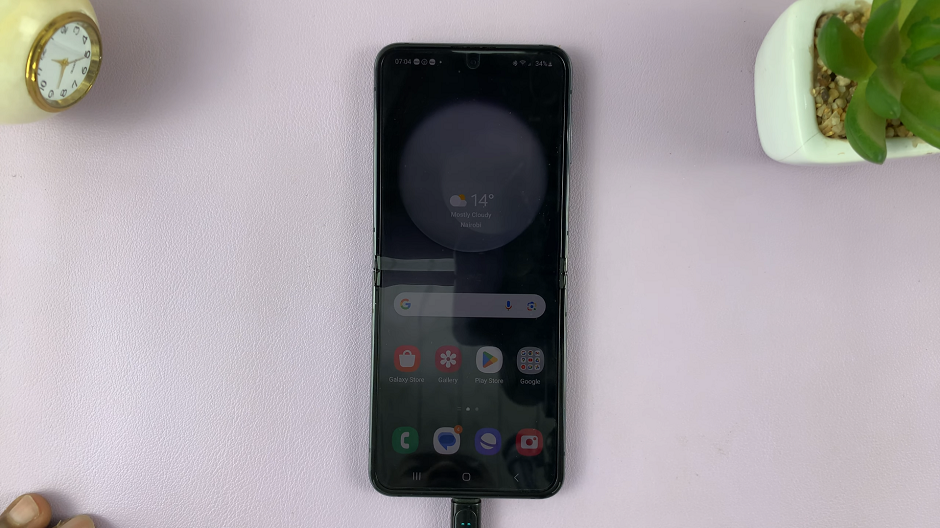 App or Setting Conflict: Certain apps or settings could be causing conflicts that prevent the screen from turning off during charging.
Battery Saver Mode: The Battery Saver mode might be activated, which can alter the device's default behavior.
Firmware Issues: Outdated firmware could lead to unexpected behaviors, including this one.
FIX 'Screen Not Going Off' When Charging On Samsung Galaxy Z Flip 5
After understanding the reasons why this may happen, we need to get into how to fix Screen not going off when charging your Samsung Galaxy Z Flip 5.
This mainly happens when you may have accidentally toggled on a button to keep the screen awake in Developer options. What you want to do is go into Settings via the app drawer or via quick settings.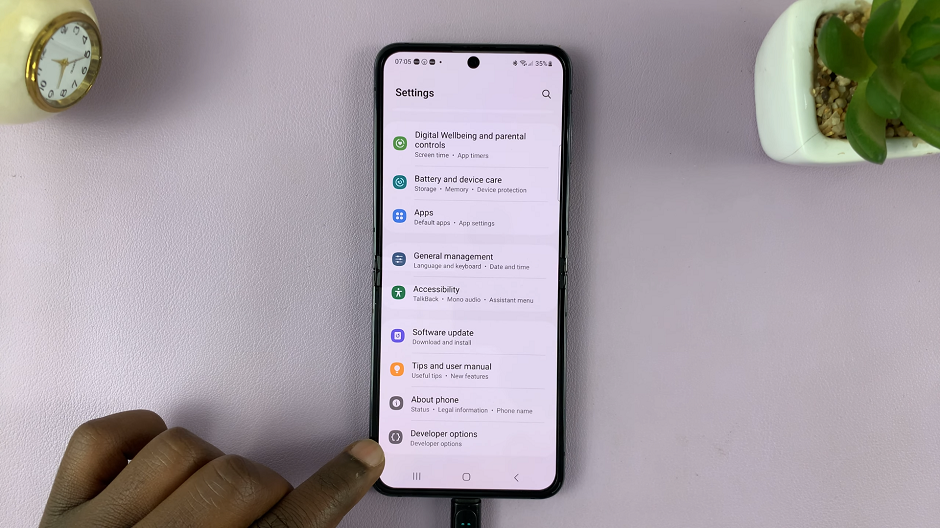 Scroll all the way down to Developer options and tap on this option.
Look for the option labelled Stay awake. It's toggle button should be in the ON position. This is why the screen will never sleep while charging.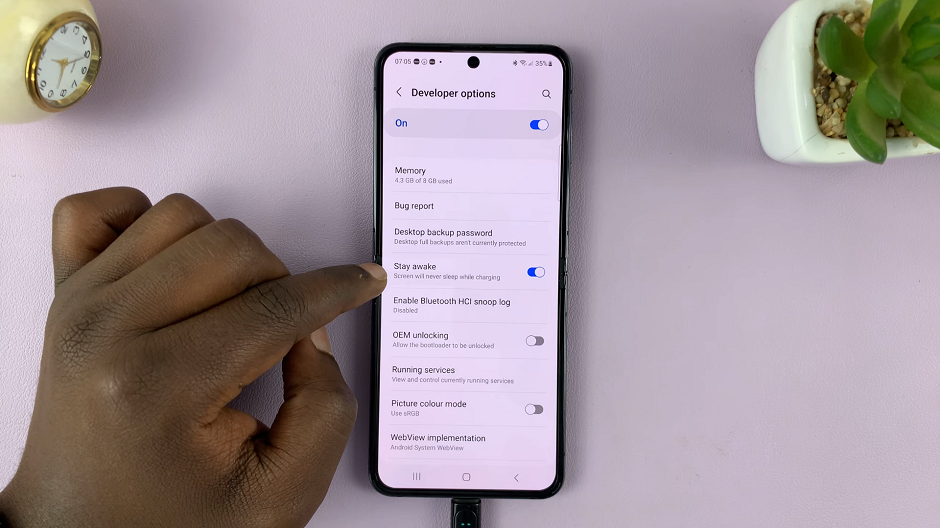 Turn off this option by setting the toggle to the OFF position, if you no longer want this to be the case. Your screen will now show the charging animation briefly and the screen will go off after the screen timeout period has elapsed.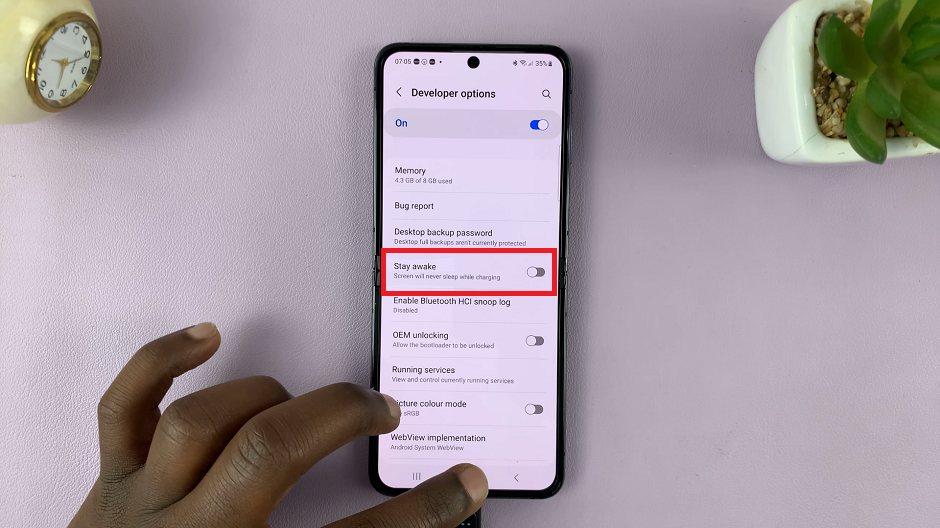 You can also turn off Developer options from this page if you no longer want to accidentally flick on any switches that may change things on your Samsung Galaxy Z Flip 5!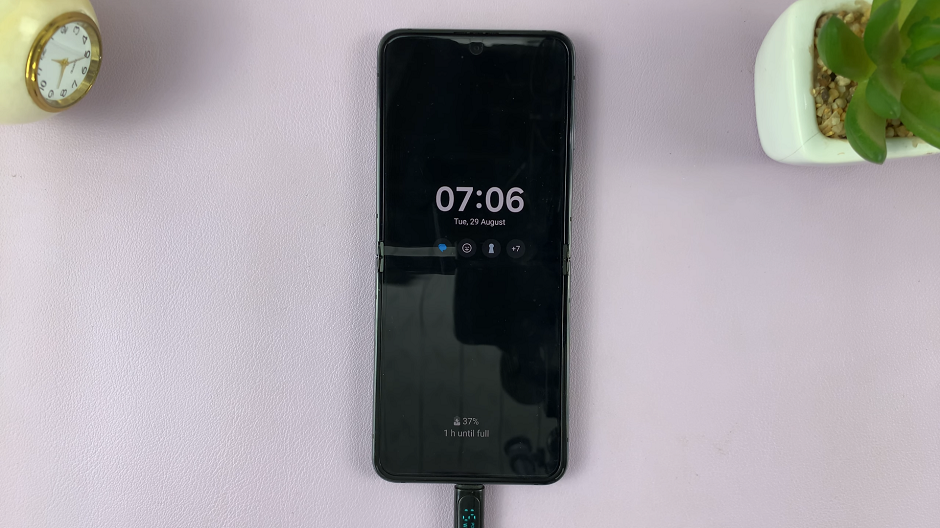 Experiencing the 'Screen Not Going Off' problem when charging your Samsung Galaxy Z Flip 5 can indeed be frustrating, but with this systematic approach, you can resolve the issue.
By taking control of this issue, you'll be back to enjoying your Samsung Galaxy Z Flip 5 to its fullest potential – a sleek, powerful device that offers an exceptional user experience.
Read this: How To Add Battery Icon and Percentage On Cover Screen Of Samsung Galaxy Z Flip 5