The GoPro Hero 9 came in with significantly larger batteries. But even those need to be charged every now and then.
To charge the Hero 9 battery, all you need to do is open the battery chamber door by sliding down the 'lock'. as shown in the video.
With the door open, you can access the battery and the USB-C port which is where you'll charge the batter from. Leave the battery inside the Gopro and plug in the USB-C cable that came with it to the port, and the other end to a power source.
You should see a continuous red light indicating that the battery is charging. You can switch off the Gopro as it charges or you could just continue to use it if you want!
Use GoPro Hero 9 Battery Charger
You don't have to charge your batteries inside the Gopro. You could use an external charger to charge your spare batteries (See On Amazon) while your other battery is being used.
There's an official GoPro Hero 9 battery charger (See On Amazon) that charges two batteries at a go. While it's the official offering from GoPro, I don't like that they changed the design to a shorter case.
However, if you're looking for a solid third party charger for your Hero 9 batteries, this Artman Quick Charger (See On Amazon) is the best alternative in my opinion.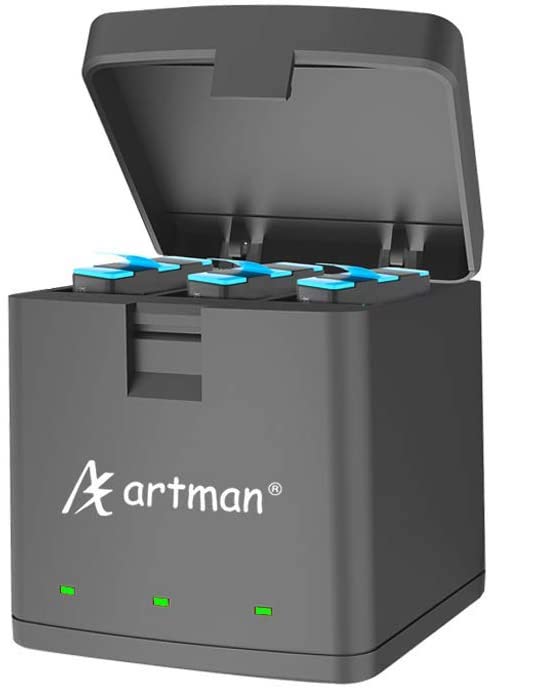 It comes with two extra batteries, and allows you to charge upto 3 batteries at the same time. It's also a full case that will completely house and protect your Gopro Hero 9 batteries.