You might have set up your Gmail account a long time ago and you didn't pay much attention to the name you chose for your Gmail account. Your Gmail name.
Now you need everything to look professional including your Gmail name.  The Gmail name is basically the name that appears to the the people you email.
Fortunately, the Gmail (display) name can be changed from your Gmail account settings.  But you cannot change the email address without opening a new account.
To Change Your Gmail Name:
Sign in to your Gmail account and navigate to your settings page.  On the settings page click on the 'Account and Import'  tab.
In the 'Send mail As'  section, click on 'edit info' on the extreme right hand side. Your default Gmail name will be displayed together with a text box where you can define the Gmail name you want to use.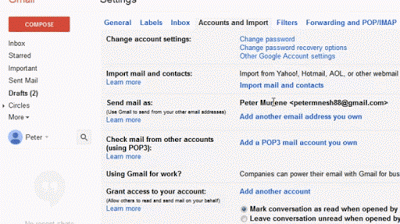 The name being changed is not the name in your account but the name that will appear in the inboxes of the people you email.  After the change,  you can test it be sending an email to yourself on another account you have access to.