We've seen before how you can automatically respond to all incoming emails when you're not working using Gmail's autoresponder feature called Vacation responder. While that's a good method,  it has a few limitations.
Limitations of Gmail's Vacation Responder Feature:
It sends the exact same email to all people emailing you. There are no custom responses.

You cannot add attachments to vacation responder messages.

You cannot set up vacation responder from the mobile app.
For these reasons, I have found a way to create automatic replies to incoming emails while taking care of all these limitations. Canned responses allow us to add attachments while Gmail filters allow us to automatically reply with Canned emails.
To get started, create canned responses for different common scenarios. Lean how to create a canned response here. Make sure you give the canned responses clear subjects and names. For instance, create a canned response to reject guest post requests on your blog.

You can even add an attachment to the canned response if need be. Create these canned templates for the different emails you receive.
When that's done,  go your Gmail's search box and click on the small downward facing arrow to open advanced search. Enter the criteria for a certain kind of email.  For instance,  for an email from someone requesting to write a guest post on your website,  the subject or the body of the email might contain the word 'Guest Post'.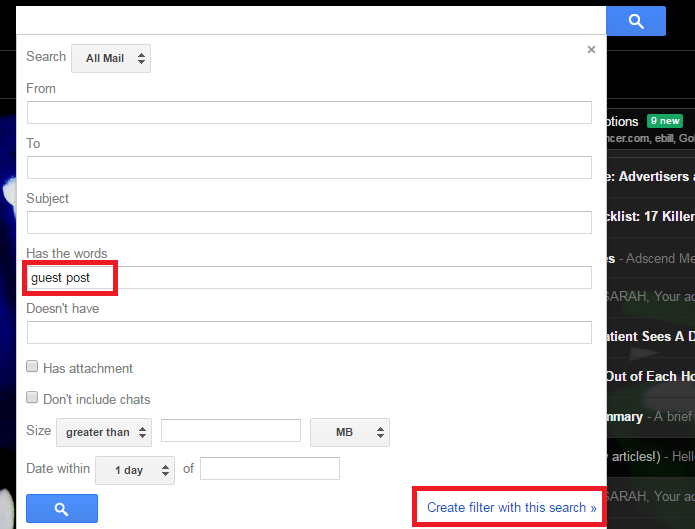 Enter that and in the relevant text fields and click on 'Create a Filter with this search'. On the create filter page,  select what you want to do with this kind of emails.
We want to automatically send send the 'Guest Post Request' canned response. Go to the Send Canned Response' option and check it. Then select the specific caned response to send from the drop down menu.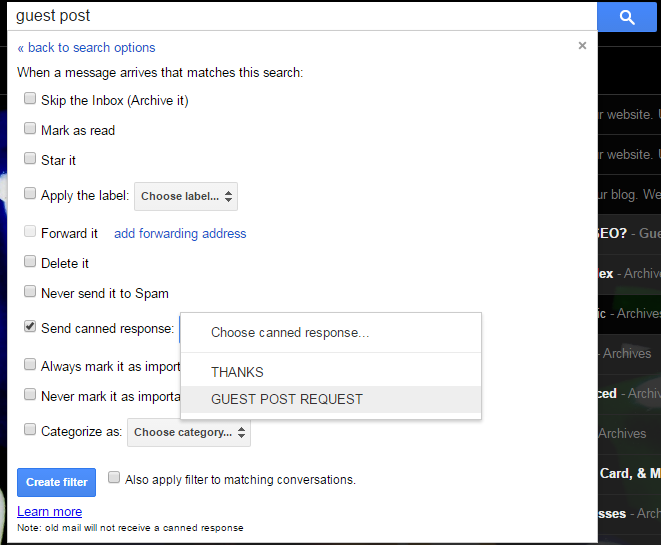 Then click 'Create Filter'.  Now every time an email comes in with the criteria you selected in the search filter, the relevant canned response will be used to automatically reply.  You can do this for all kinds of emails you get.
This gives you much more freedom in auto responding to emails whether you're on vacation or working.