This error presents itself when Windows users try to play YouTube videos. It can also be an audio problem as it can occur when using the in-built audio player.
To remedy the situation, let us look at a few methods down below.
How To Fix YouTube's Audio Renderer Error
Unplug Then Plug In Headphones
This is the first step you should take to try resolve the issue.
Go ahead and unplug the headphones and then plug them back in. If paired, disconnect them.
Please note that this is only a temporary solution.
Restart The Computer
Although this is also a temporary fix, as per the error message, do go ahead and restart your computer and see if the error will clear.
Run The Audio Troubleshooter
This method should help especially if the error is caused by an issue that Microsoft is aware of.
Open the dialog box by pressing Windows + R. Once it opens, type in ms-settings:troubleshoot and then press Enter.
This will open the Troubleshooting tab and under it, go to Get up and running and click on Playing Audio.
Next, click on Run the troubleshooter and then select the device showing the error. Click on Next.
Wait for the diagnosis to take place and if an issue is found , you will receive instructions on how to repair.
Now restart your computer and see if the error has cleared.
Disable Then Re-enable Audio Driver
Open the Run dialog box and type in devmgmt.msc. Press Enter which should open the Device manager.
Here, open Sound, Video and Game controllers menu and right click on every audio adapter. Now click on Disable device.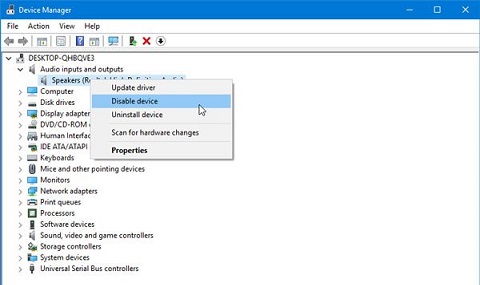 After a few minutes, go through the same process and Enable device. The error should have resolved by now.
Roll Back Or Uninstall The Audio Driver
If the error is caused by corrupted files, uninstalling the audio driver will mean that Windows will have to reinstall the driver on restarting the computer.
If you are dealing with a software bug, a roll back to a previous audio version should do the trick.