So you're connected to a Wifi network and can't remember the password to share it with your friends or something. This doesn't prevent you from browsing and accessing the internet but it bothers you that you can't remember the password of the network you're connected to.
The good news is,  you can find the password of the WiFi network you're currently connected to and any other Network you have ever connected to with your computer or phone. You can also find the Wifi Password On Your Mac but this article is explaining how to do it on a Windows computer.
How To Find Your Wifi Password:
First things first; if you have never changes the default password of your router, then the password is most likely on a sticker at the back of the router. Simply check your router and you'll see the default password.
But if you can't physically access the router or you had changed the default password to something you can no longer remember, here's how to see your Wifi password.
If you're connected to the network on a Windows computer, simply go to the Network and Sharing Center in the Control Panel. Click on the name (SSID) of the current network connected.
A small 'Wi-fi Status' windows will pop up. Click on 'Wireless Properties'. Then Click the "Security" tab and select the "Show characters" checkbox to view the password hidden behind asterisks.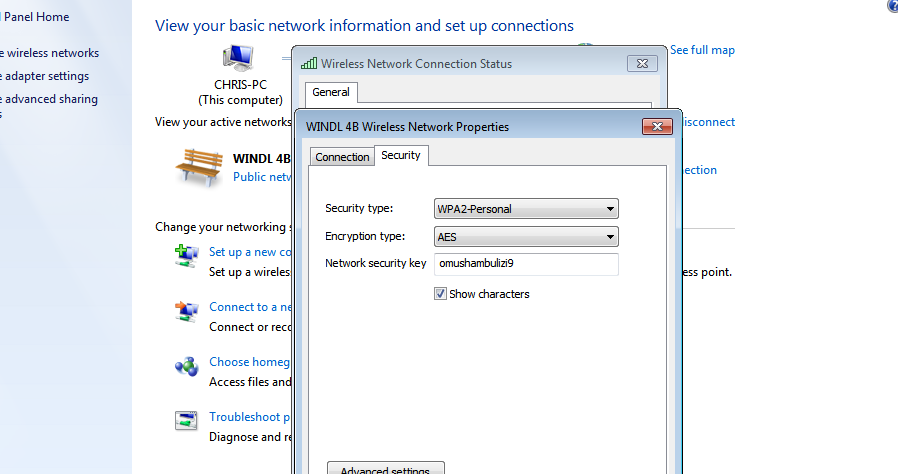 That's how to find your Wifi password when you're currently connected to that Wifi network. If you want to see the password(s) of Wifi networks had connected to previously, you can.
If you're on Windows 7, go back to the 'Network and Sharing Center' in the control panel. On the left menu, click on 'Manage Wireless Networks'.
You'll see a list of all the Wifi networks saved on your computer. Click on any and follow the same steps to reveal the password. But this only works for Windows 7 and earlier editions.
For Windows 8 and 10, you'll need to use the command prompt. Open the command prompt and type in the following:
netsh wlan show profiles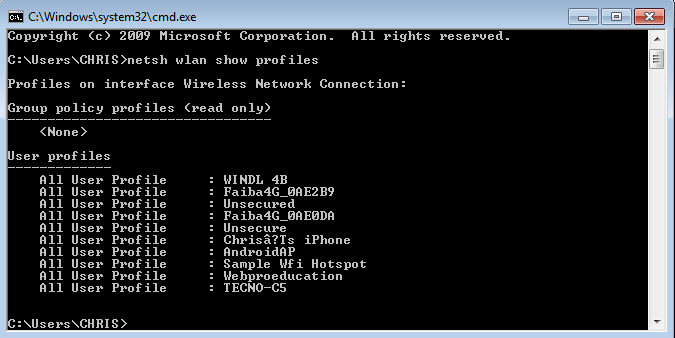 You'll see a list of all the networks you have ever connected to. Once you locate the SSID (name) of the Wifi network whose password you want to find, type in the following in the cmd prompt.
netsh wlan show profile name=profilename key=clear
Make sure you replace profilename with the SSID of the network whose password you're trying to find. The password of that network is the Key Content value.
Also Read: What To Do If You Forgot Your Android Lock Screen Pattern