Have you asked yourself where or how to find the downloaded Apple music on your iPhone 15 & iphone 15 Pro. In this guide, we'll walk you through the steps to easily locate and enjoy your favorite tracks offline.
In an age where music is an integral part of our lives, having access to our favorite tunes on the go is essential. With the iPhone 15 and iPhone 15 Pro, Apple continues to refine the music listening experience.
However, finding your downloaded Apple Music may not always be intuitive. These instructions will apply for the iPhone 15 Pro Max as well.
Read: How To Change Notification Appearance On iPhone 15 & iPhone 15 Pro
Find Downloaded Apple Music On iPhone 15 & iPhone 15 Pro
Begin by locating the Apple Music app on your iPhone 15 or iPhone 15 Pro's home screen. It's the icon that resembles a musical note inside a pink and purple background. Tap on it to open the app.
Once you're in the Apple Music app, look for the Library tab at the bottom of the screen. It's the icon that resembles a stack of books. Tap on it to access your music library.
Inside your library, you'll find various categories such as Playlists, Artists, Albums, and Songs. To find your downloaded music, tap on the section labeled Downloaded. This is where all your offline tracks are stored in the Playlists, Artists, Albums, and Songs categories.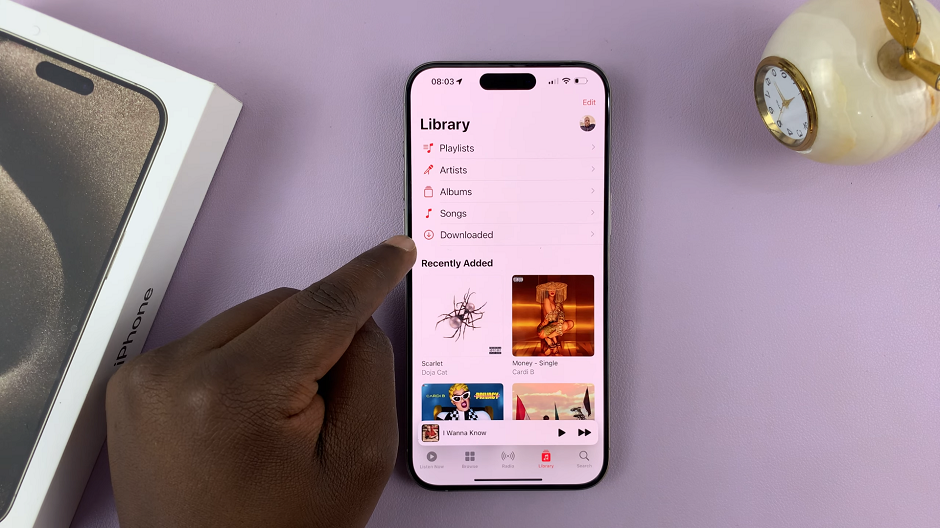 To play a downloaded track, simply go to any of the categories and tap on the song you want to listen to. It will start playing immediately, even if you're offline. You'll notice a small green checkmark next to the downloaded songs, indicating that they are available for offline playback.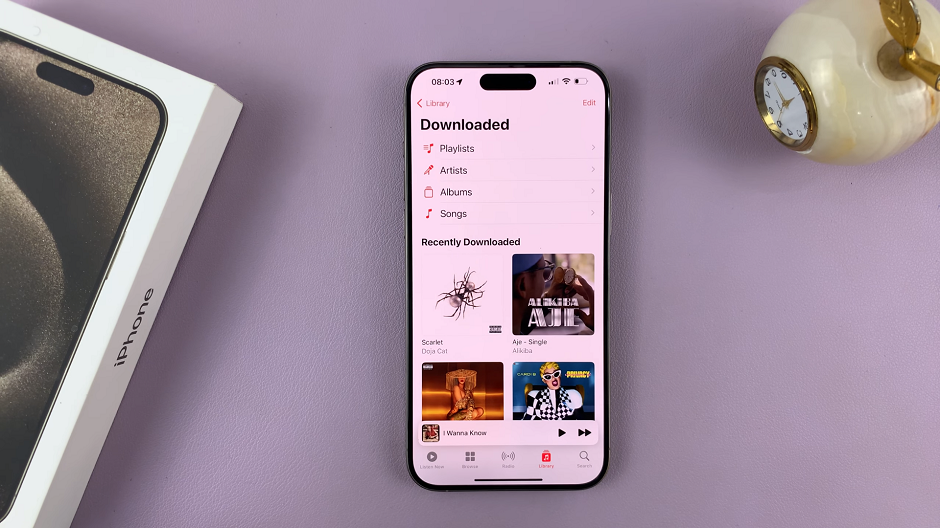 Managing Storage Space
If you find your device running out of storage space, it's a good idea to periodically manage your downloaded music. To do this, go to Settings –> Music –> Downloaded Music. Here, you can remove downloaded songs or albums that you no longer need, freeing up valuable storage space on your iPhone.
Remember, removing a downloaded song doesn't delete it from your library. It simply removes the offline version, and you can always re-download it later.
By following these simple steps, you can easily find and enjoy your downloaded Apple Music on the iPhone 15 and iPhone 15 Pro, ensuring that your favorite tracks are always at your fingertips.
Whether you're on a long flight, in an area with limited connectivity, or simply prefer to save on data usage, having your music available offline is a game-changer. Enjoy your tunes, no matter where life takes you!
Remember, technology evolves, and so do its interfaces. If you're using a different iOS version, the steps might vary slightly. Always consult the latest resources from Apple for the most up-to-date information.
Also Watch: How To Put Phone Call On Speaker Mode On iPhone 15 & iPhone 15 Pro