A YouTube video has interesting parts, and of course, there are boring parts. For the interesting parts, most people like to rewind the video to enjoy them again and again, while for the boring parts, most people choose to fast-forward the video to skip them.
Whilst the double-tap to skip is a useful feature, it is sometimes not enough, especially for videos where the intro or sponsored message seems to be unending. Luckily, there is a way you can fast-forward or rewind more than the default 10 seconds in a YouTube video to help you avoid the wait. Below are the steps on how to fast-forward or rewind more than the default 10 seconds on the YouTube app.
Watch: How To Share WIFI Connection Without Password On Samsung Galaxy A14
Fast Forward & Rewind More Than 10 Seconds On YouTube App
Firstly, launch the YouTube application on your device. If you haven't signed into your YouTube account, go ahead and login into your account. Next, tap on your profile icon at the upper right corner of the screen and tap on 'Settings'.
At this point, tap on 'General' then scroll down and select 'Double-tap to seek'. Normally, it's set to 10 seconds by default on the YouTube application. Now, choose the desired timeframe you'd prefer from the list of options available. The options range from 5 seconds up to 60 seconds. Once done, go back and test it on any YouTube video.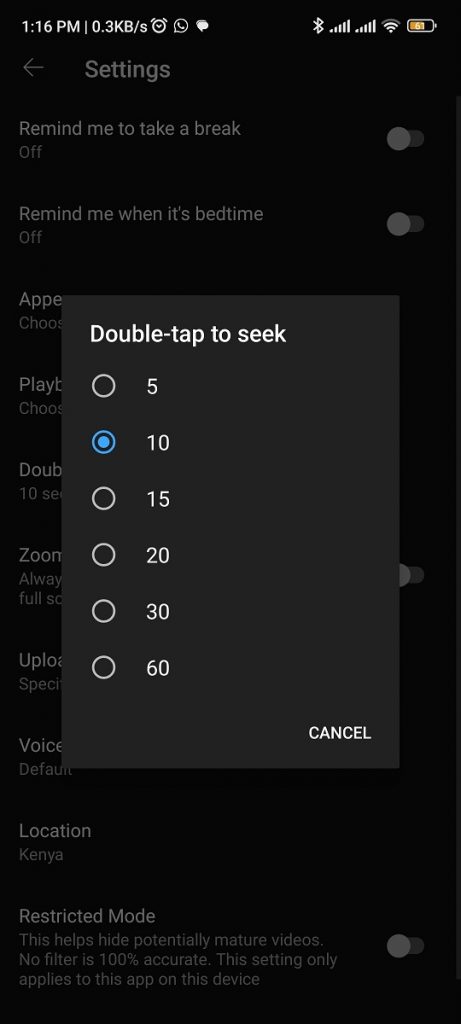 And that's how to go about it. Let us know in the comment section if you have any questions or suggestions. If you found the article helpful, consider sharing it with your friends.
Read: How To Install Samsung Notes App On Samsung Galaxy A14