You might have experienced issues with your phone such as freezing or not responding. These problems can be easily fixed by performing a factory reset on the phone. Factory reset basically restores the phone to its original system state by erasing all the information stored within it. This will effectively erase all data, settings, and third-party applications that were previously stored in the device.
But what if the factory reset doesn't work? Well, you might want to consider performing a hard reset. However, this should be your last option if the factory reset doesn't work properly. We don't recommend this because it will restore your device to its original factory state.
Everything associated with the hardware is erased from the phone. Remember that you can't recover any data if you perform a hard reset. The guide will show you easy steps to factory reset your Samsung Galaxy A14.
Watch: How To Hard Reset Samsung Galaxy A14
Factory Reset Samsung Galaxy A14
Make sure you have charged your phone or it has enough charge to successfully perform a factory reset.
First, go to 'Settings' on your Galaxy A14, then scroll down and tap on 'General Management'. On this page, scroll down and select 'Reset'. At this point, you'll see a couple of reset options for your device. You can decide to reset the network settings, reset accessibility settings, or reset all settings.
Next, tap on 'Factory data reset'. At this point, you'll be briefed on what will be erased when you perform a factory reset on your Galaxy A14. You can decide to read about it, or scroll down and select 'Reset'. You'll be prompted to allow access by unlocking your device.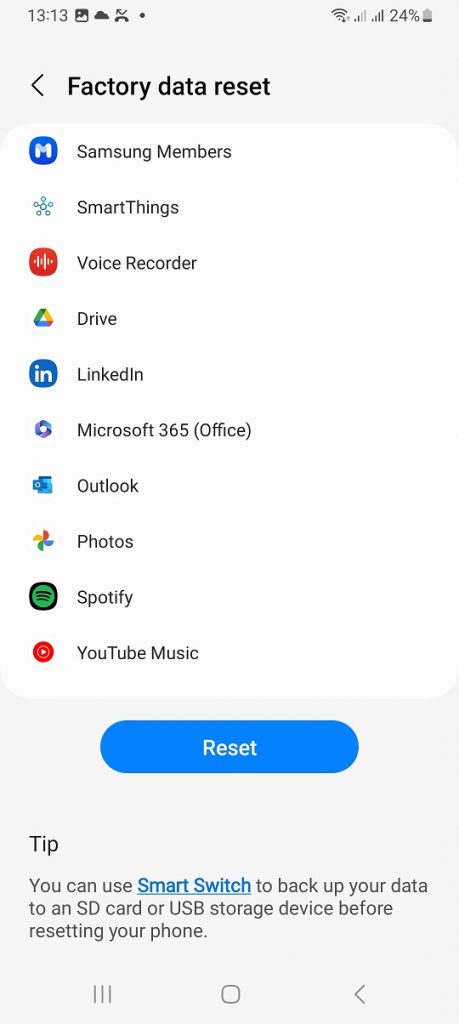 Once you grant access, tap on 'Delete All', and the reset process will commence. This might take a while depending on how much data you had on your device. And that's how to go about it. Let us know in the comment section if you have any questions or suggestions. If you found the article helpful, consider sharing it with your friends.