Whether you just want to save your bookmarks somewhere in case your Firefox browser crashes, or you're thinking about transferring them into another browser, exporting your bookmarks every now and then is a good idea.
If you use Firefox, you're in luck because the process is extremely easy. For this tutorial to work smoothly, ensure you have a recent, if not the latest version of Mozilla Firefox.
How to Export Bookmarks From Firefox 
To export bookmarks in Firefox, you will start by opening up your browser. Once the browser is open, move to the top right side of your Firefox and click on the open menu icon. A drop down menu will appear. On the drop down menu move to the library option which is around the center as shown below. 
Once you find the library option, click on it and another menu will appear which starts with the bookmark option. Once you find the bookmark option, click on it and it will open up all the sites that you have bookmarked. At the very bottom of the bookmarks menu, select Show all bookmarks which will open the bookmark library window.
On the bookmark library window click on the import and backup  option. Something to note is that you can use the shortcut Ctrl+shift+B to open up the bookmark library window.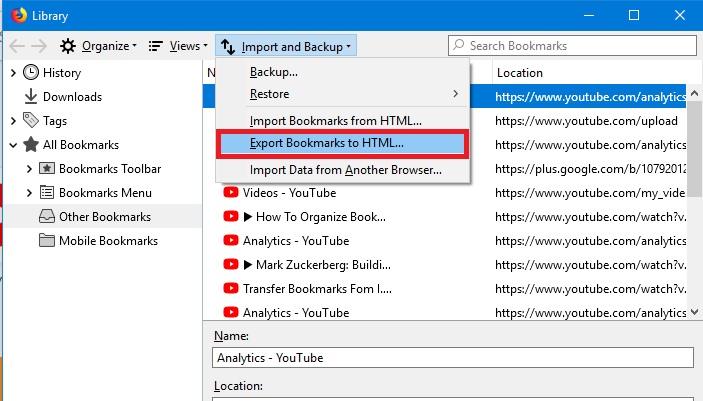 Select the back-up option to open up a new window. Another point to note is that for you to export to HTML, you can make use of the Export bookmarks to HTML which is common in google chrome.
The new window opened once you click on the back up will instruct you to choose a destination in which you want to save the file plus the name you want to give it. Once you are through click on the save option.
Finally your back up is available in either JSON format for Firefox or HTML format which is common for both Firefox and Chrome. You can now share it freely. That's How to export bookmarks from Firefox
Also Read:  How To Remove Bookmarks From Firefox