Apple introduced a feature called "Announce Calls" on iOS 10 that allows your iPhone to speak or read the name of whoever is calling you. Similarly, there is a feature called "Read caller names aloud" on Samsung Galaxy A14. This feature is the same with Apple's Announce calls.
Normally, the 'read caller names aloud' feature announces the name or number when you receive an incoming call. It only works when you have connected your device to a Bluetooth device. You can change this and enable it to work always whenever you receive a phone call on your Samsung Galaxy A14. Follow the steps below to enable caller name announcer on your Samsung Galaxy A14.
Watch: How To Enable/Disable Double Tap To Turn Screen On/Off On Samsung Galaxy S23
Enable Caller Name Announcer On Samsung Galaxy A14
By default, this feature is disabled on the Samsung Galaxy A14. You can enable it so that you can see this feature at any given time.
Firstly, head to 'Settings' on your Samsung Galaxy A14. Then, scroll down and tap on 'Accessibility'. From here, scroll down the menu and select 'Interaction & dexterity'. On the next page, tap on 'Answering & ending calls'.
To enable it, tap on the toggle icon next to it to enable it. You can customize the 'read caller names aloud' option from here. Simply tap on 'Read caller names aloud' then choose the option you'd prefer for the feature. There are only two options; 'With Bluetooth or headset only' and 'Always'.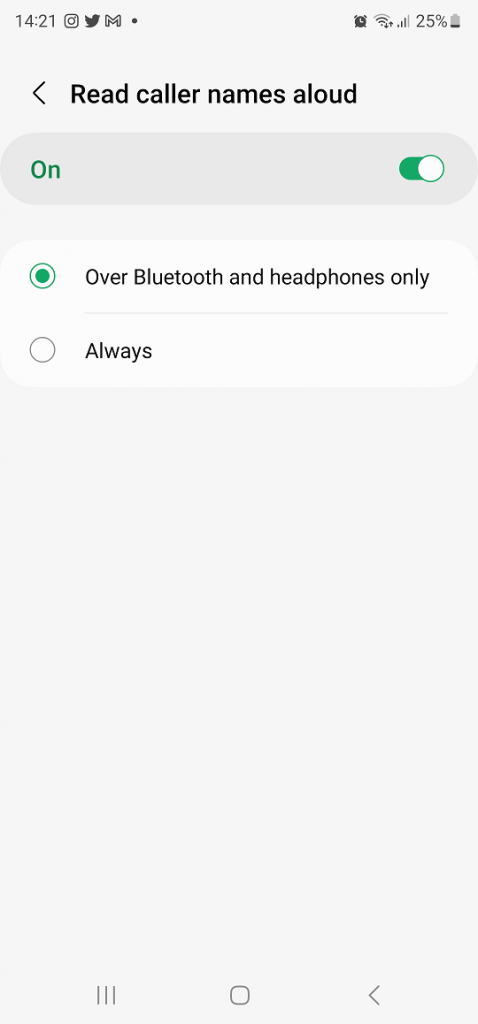 However, it's worth saying that when the read caller names aloud are activated, your phone speaks the name of the incoming caller person if he or she is in your Contacts app. It also speaks the number of the incoming call if you haven't saved it on your contacts.
And that's how you go about it. Let us know in the comment section if you have any questions or suggestions. If you found the article helpful, consider sharing it with your friends.