The Samsung Galaxy S23 is a powerhouse of a smartphone, offering an array of features and customization options. One of these features that can greatly enhance your typing experience is the ability to create and manage text shortcuts on the keyboard.
Text shortcuts allow you to input frequently used phrases or words with just a few keystrokes, saving you time and effort in your daily communications.
In this article, we'll guide you through a step-by-step process on how to edit and delete text shortcuts on the keyboard of your Samsung Galaxy S23.
Also Read: How To Add Text Shortcuts On Keyboard On Samsung Galaxy S23
How To Edit & Delete Text Shortcuts On Keyboard Of Galaxy S23
How to Edit Text Shortcuts
Start by navigating to the "Settings" app, which has an icon that looks like a gear. Scroll down the list of settings options and select "General Management." Within General Management, tap on "Samsung Keyboard Settings."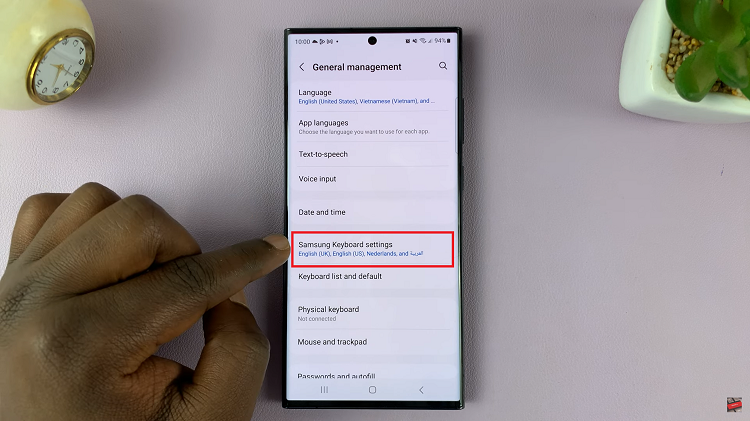 Inside the Samsung Keyboard Settings, locate the label "Text shortcuts" and tap on it. This will display a list of your existing text shortcuts. Review the list of shortcuts and choose the one you wish to edit by tapping on it. A screen will appear, allowing you to modify the shortcut.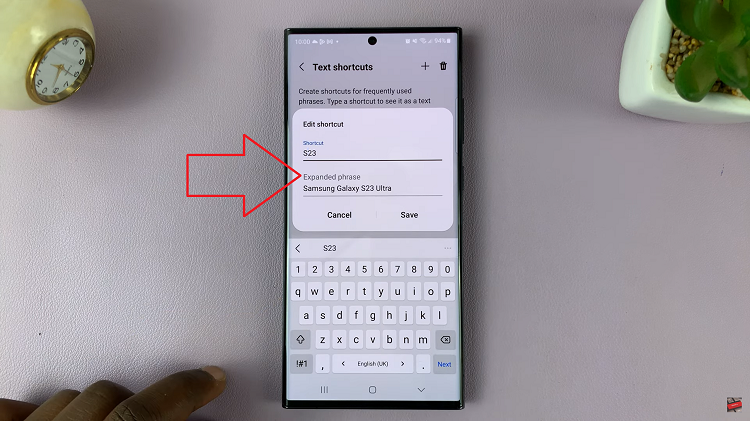 After making the desired changes to the text shortcut, ensure that you save your edits. Look for a "Save" button or similar option on the screen and tap it.
How to Delete Text Shortcuts
As before, start by opening the "Settings" app. Scroll down and select "General Management" from the list of settings. Within General Management, tap on "Samsung Keyboard Settings" to access your keyboard settings. Find and tap on the "Text shortcuts" label under Samsung Keyboard Settings to view your list of text shortcuts.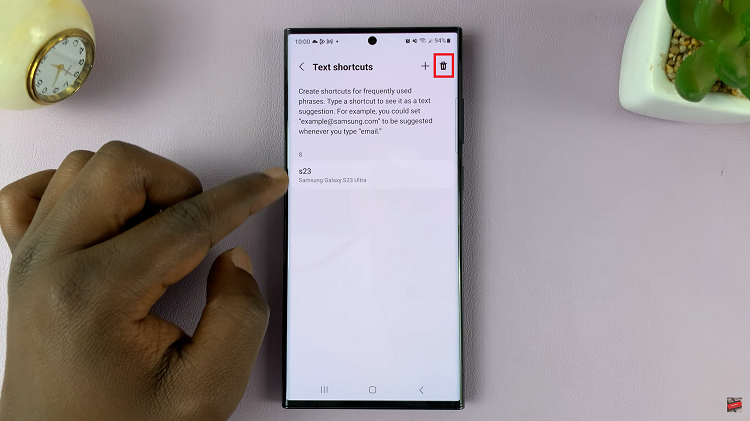 To delete the a shortcut, look for a bin icon at the top of the screen. Tap on it to initiate the deletion process. After tapping the bin icon, select the shortcut you wish to delete. A confirmation prompt will appear on the screen, asking if you want to delete the shortcut. Confirm your choice by tapping "Delete."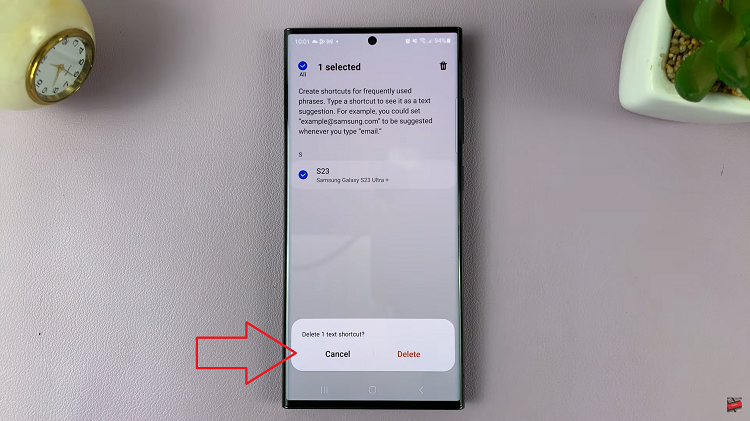 Managing text shortcuts on your Samsung Galaxy S23 keyboard is a straightforward process. Whether you need to edit an existing shortcut to better suit your needs or delete one that's no longer relevant, following these steps will help you efficiently customize your keyboard's text shortcuts.
Watch: How To Enable / Disable Google Translate and YouTube To Keyboard On Samsung Galaxy S23, S23+, S23 Ultra