It's still not clear whether the government is able to or is actually spying on its people through their web cams. One thing is for sure, hackers can!
As a rule of thumb in this day and age, it's important to take necessary precautions when you can to be on the safe side. Some people will use the Webcam cover to block their webcams when they're not in use.
Others prefer to completely disable the web cam. Disabling the webcam eliminates the possibility of forgetting to cover it. But then it also means you'll not be using Skype and other video conferencing services.
How To Disable Webcam In Windows 10
Open the device manager by asking Cortana or you can just press the Windows key and start typing Run dial….. to open the Run dialog box. In the dialogue box, type devmgmt.msc and hit Enter to open the device manager.
The device manager will list all the hardware devices on your computer. Look for the webcam in the categories called 'Imaging devices'  or anything to do with 'camera'. Clicking on the expand button will reveal the web cam.
Tip: If it's a USB webcam, simply unplug it from the computer.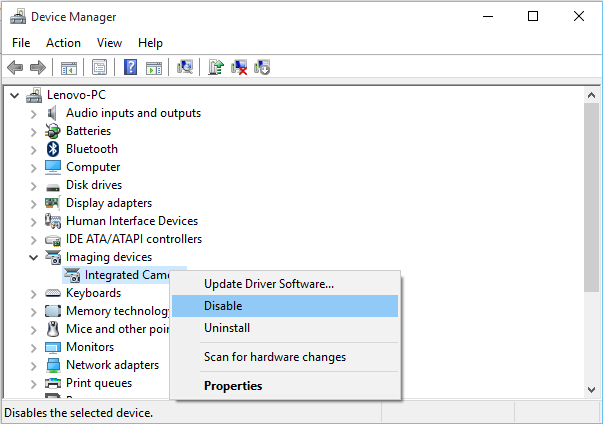 When you find the webcam of your computer, just right click on it and select 'Disable'. Once the webcam is disabled, it can no longer be accessed by any application or even malware.
Also Read: How To Disable FaceTime