So you have linked your Instagram profile to your Facebook profile for a while and your Instagram posts have been appearing on Facebook. Now Instagram allows you to choose whether you want to post to Facebook as well as you send each post.
That's great but what about old Instagram posts that are now on Facebook? You can always log in to Facebook and delete them like you would delete a normal Facebook post.
This might sound easy if you have very few posts to delete.  If you have many Instagram posts in your Facebook profile, then deleting them one by one can be a pain in the ……
How To Delete Instagram Posts From Facebook
Alternatively, go to Facebook and sign in to your account (preferably on the web interface). Then go to Settings and then Apps. You should see Instagram among the apps.  Click on See More if you cannot see Instagram.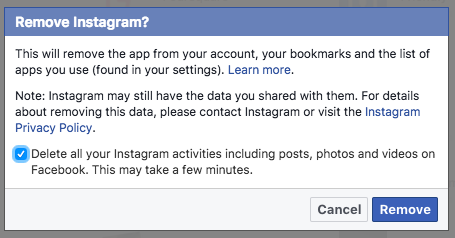 Click on The Instagram app. Then Click 'Remove App  at the bottom of the page.  In the 'Remove app'  dialogue box, check the box to remove all your Instagram posts that appear on your Facebook profile, and click Remove.
Also Read:  How To Unlink Instagram From Facebook