Face Unlock is a convenient way to unlock your Android phone. Once you've set up facial recognition on your smartphone, you can simply look at it to unlock the device. Face Unlock uses images of your face to create face models that are used to identify you and unlock the phone.
However, face unlock is not the most secure method of authentication. If you have a twin or a sibling who you look similar to, they can simply unlock your phone. Hence the other security lock features are more secure than this. You can delete face unlock on your Samsung Galaxy S23 if it's not that secure.
Watch: How To Turn On RAM Plus On Samsung Galaxy S23
Delete Face Unlock On Samsung Galaxy S23
The steps illustrated below work across all the S23 phones; Samsung Galaxy S23, Samsung Galaxy S23+, and Samsung Galaxy S23 Ultra.
First, open 'Settings' from your app drawer or home screen on your Galaxy A14. Next, scroll down and tap on 'Security and Privacy'. At this point, you will see all the security options for your Samsung Galaxy A14.
Next, scroll down and select 'Biometrics' then tap on 'Face Recognition'. Before accessing the next step, you'll be prompted to type in your security lock. In case you don't have one enabled, you'll be requested to create one.
Next, tap on 'Remove face data' and then select 'Remove' to confirm the changes. Afterward, any face data that was saved on your Samsung Galaxy S23 will be removed. However, if you'd like to enable it back again, you can do that at any given time on your device.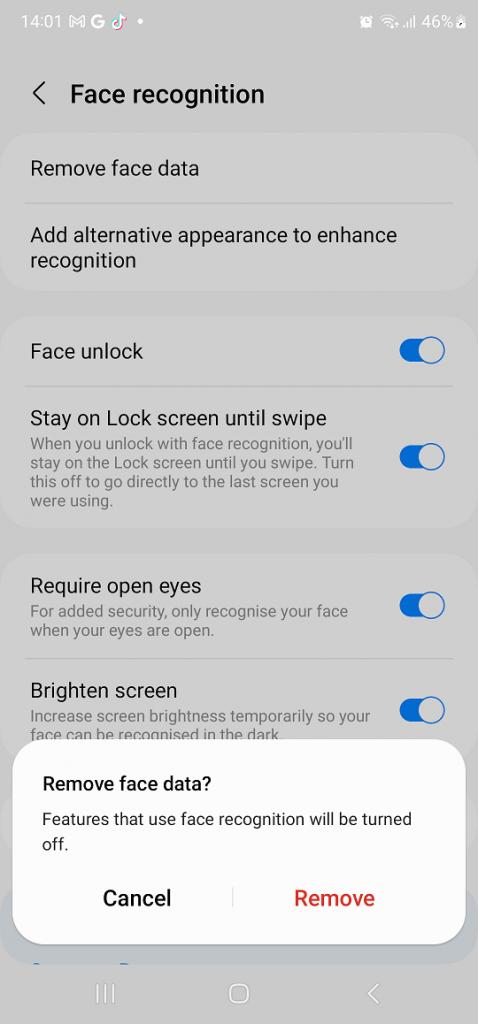 And that's how to delete face unlock on Samsung Galaxy S23. Let us know in the comment section if you have any questions or suggestions. If you found the article helpful, consider sharing it with your friends.
Read: How To Turn Samsung Galaxy S23 Lock Screen Sound On & Off