An apple ID is in the simplest terms, an Apple account. This is the account you will use on your Apple devices and Apple services. But you can create an Apple ID without an iPhone.
The iPhone is the most popular Apple product and is the main reason why people create Apple IDs. But you also need an Apple ID to use a Mac, Macbook, iPad and even the iPod.
That's why it's possible to create an Apple ID without an iPhone. Follow along as I show you three different ways to get this done with no iPhone in sight!
Why Create an Apple ID Without iPhone ?
If you don't have an iPhone but you still want to use another Apple device like an iPad, a Macbook or an iPod
You already have an iPhone and an Apple ID but you want to create a new Apple ID. So you go elsewhere to create it.
You don't have any Apple device but you want to use a service like iWork
It's generally easier to work on a computer than on a smartphone (iPhone)
You are looking forward to buying an iPhone. You're just preparing!
These are all scenarios where you can create an Apple ID (account) without an iPhone. This means you can use any web browser on any computer and create an Apple ID in many different ways.
Personally, I've always found it easier to work with computers and web browsers than doing anything on my phone or tablet. When I can, I always use my Mac or Windows PC.
Use The Apple ID HomePage
On either a Windows PC or a MAc, launch your favorite browser and go to https://appleid.apple.com/account . That's the Apple ID homepage.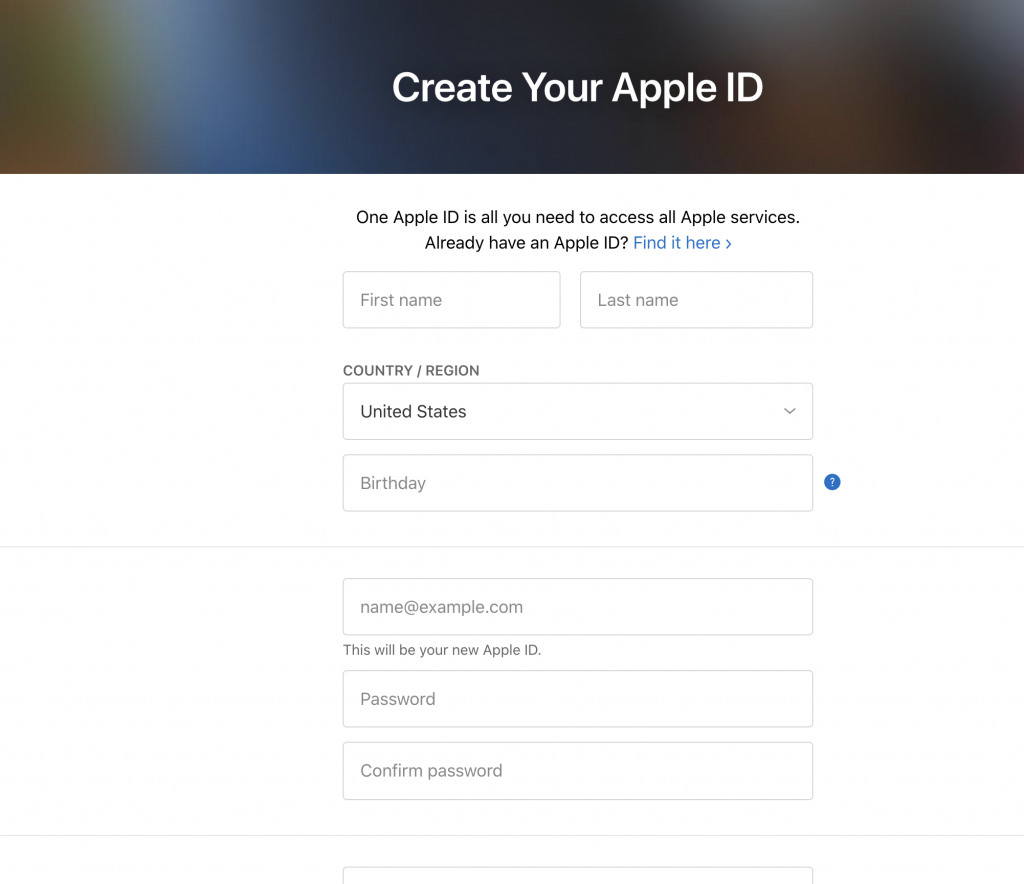 Fill in the Sign up form appropriately. Make sure you use a working phone number and Email address that you have access to in real time. You will need to verify these before you finish the sign up process.
Make sure you use an Email address you have never used before because that is the identity of your Apple ID. You can use the same phone number for more than one Apple ID (account).
Once you accept the terms and conditions and verify the phone number and Email, you're good to go! You have an Apple ID that you can use on Apple devices and services.
Create Apple ID via iCloud
You need an Apple ID to access iCloud; Apple's cloud storage service. Also from any browser, go to the iCloud homepage: https://www.icloud.com/
You'll not be signed in unless you already have an Apple ID. At the top of the page, you'll see a link like "Create your free Apple ID and get started today". Click on this link and a form similar to the one shown above. Once again, fill in the form diligently adhering to what I said above. Then you have your Apple ID with no iPhone.
Create Apple ID On a Mac
You might not have an iPhone but you have a Macbook or an iMac. If you don't prefer to use the browser, you can still create an Apple ID.
Click on the Apple logo in the top left corner of the screen, go to System Preferences. Then you should see Sign in at the top of that Window. A similar sign up form will appear. Use the instructions above to fill in that form and complete the signup process.