The easiest way of sharing a Google doc is by collaborating but this requires some level of trust with the people you're sharing with. In almost any other case, converting the Google doc, or Google sheet or Google slide into a PDF has more advantages.
Why Convert Google Docs to PDF ?
There are plenty of reasons why you would want to convert your Google docs to PDF. First, PDF format is known for preserving format no matter where it's sent to or opened with. Everything from  the fonts,  text sizes and structure remains exactly the same.
PDF files also look professional and are often used for official documents that require physical or digital signatures. PDF file format also makes for smaller file size with its internal compression.  This makes it the ideal format to send to other people.
How To Convert Google Docs To PDF
Download Google Docs as PDF
In Google docs, there is an Export feature that lets you download your Google doc as a PDF file. While the document is open, click on File, then hover your mouse over 'Download'.  From the download menu, select PDF Document.
The Google doc will be converted and downloaded to your computer as a PDF document. You can find it in the default download destination for Google docs.  Usually in the computer's default downloads folder unless it's changed.
Send As Email Attachment
If your main aim is to send that PDF file, then you might as well use Google docs to convert your Google docs when sending it as an email attachment.
Open the doc in Google docs. Then Click on File and choose 'Email as attachment'. Then in the dialogue box that appears, choose PDF in the 'Attach as' drop down menu. The document will be sent to your desired recipient as a PDF file.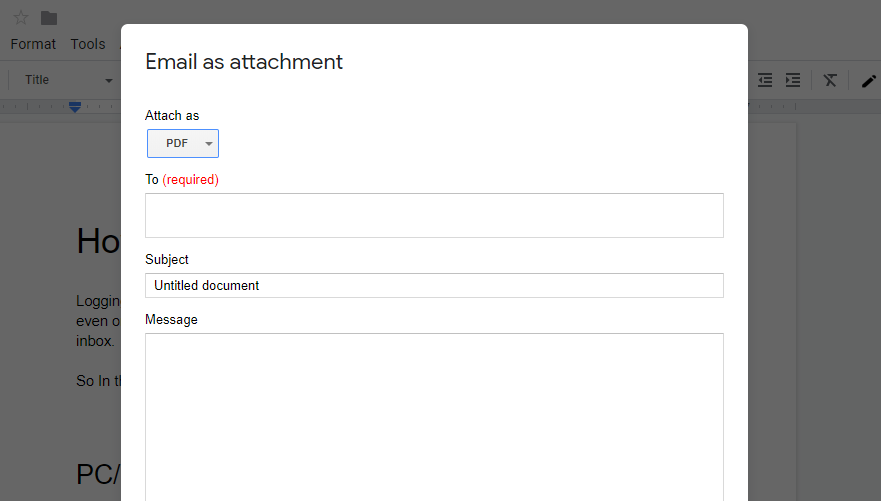 Also Read:  How To Convert Google docs to E book