Gaming on mobile devices has come a long way, and with the release of the iPhone 15 and iPhone 15 Pro, Apple has continued to push the boundaries of mobile gaming. These powerful devices offer stunning graphics and performance, making them a popular choice among gamers.
While touchscreen controls are convenient for many games, there are times when a physical controller, such as the Xbox controller, can greatly enhance the gaming experience.
In this article, we'll walk you through the steps to connect a wireless Xbox controller to your iPhone 15 or iPhone 15 Pro, so you can enjoy a more immersive gaming experience.
Watch: How To Transfer Media From iPhone 15 To Flash Drive
To Connect Xbox Controller To iPhone 15
First, make sure to power up your controller. Press the Xbox button on your controller to turn it on. Next, place the Xbox controller into pairing mode. Simply press and hold the "Pair" button on top of the controller (located near the USB port). The Xbox logo on the controller will begin to flash rapidly, indicating it's in pairing mode
At this point, access the Bluetooth settings on your iPhone 15. Simply go to "Settings" and select "Bluetooth." Under the "Other Devices" section of the Bluetooth settings, you should see your Xbox controller listed. Tap on it to initiate the pairing process. Your iPhone will connect to the controller automatically.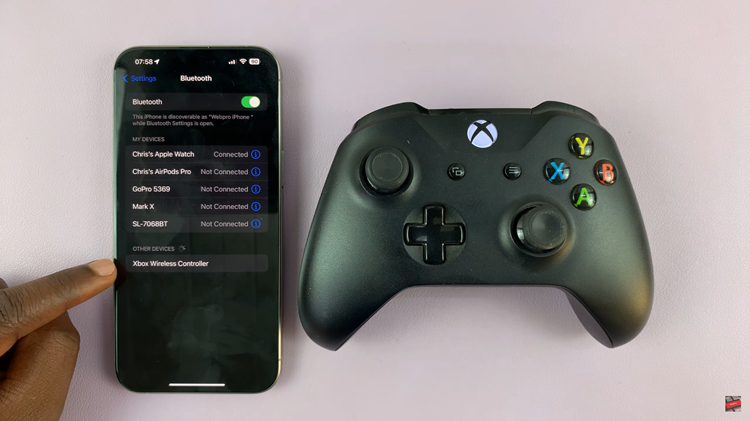 Once connected, you'll see a message on your iPhone confirming the successful connection between your device and the Xbox controller. To ensure the connection is successful, open a game that supports external controllers, and you should be able to play using your Xbox controller.
And that's how to go about it. Let us know in the comment section below if you have any questions or suggestions.
Read: How To Take Partial Screenshots With S Pen On Samsung Galaxy Tab S9 & S9 Ultra