In this article, we'll delve into a comprehensive guide on how to check added fingerprints on the Samsung Galaxy S23, giving you complete control over your device's security. You can check the added fingerprints on your Samsung Galaxy S23, S23+ and S23 Ultra.
In an era where smartphones serve as a digital extension of our lives, security has become paramount. The Samsung Galaxy S23, a flagship marvel, incorporates cutting-edge biometric technology to ensure user data remains private and accessible only to the rightful owner. One of the standout features is its fingerprint recognition system, which not only offers convenience but also enhances the device's security.
With the increasing reliance on smartphones for personal, financial, and sensitive information, safeguarding our devices has never been more critical. The Galaxy S23's fingerprint recognition system allows you to unlock your device swiftly while keeping unauthorized users at bay. However, keeping track of the fingerprints you've added is essential to ensure that only authorized individuals can access your device.
Read: How To Cast Android Phone To Google Pixel Tablet
Check Added Fingerprint
Follow these simple steps to access and verify the fingerprints you've added to your Samsung Galaxy S23:
Unlock your Samsung Galaxy S23 series device using an alternative method like a Password, Pattern or PIN. Navigate to the Settings app. You can do this by swiping down from the top of the screen and tapping the gear-shaped icon or by locating the app in your app drawer.
Scroll down and select the Security and Privacy option. This is where you'll find all the security-related settings for your device.
Under the Security and Privacy menu, scroll down and find the Biometrics option. Tap on Biometrics.
Next, tap on Fingerprints. If you've set up a security method (PIN, password, or pattern), you'll be prompted to authenticate yourself before proceeding. This is an additional layer of security to ensure only the device owner can manage fingerprints.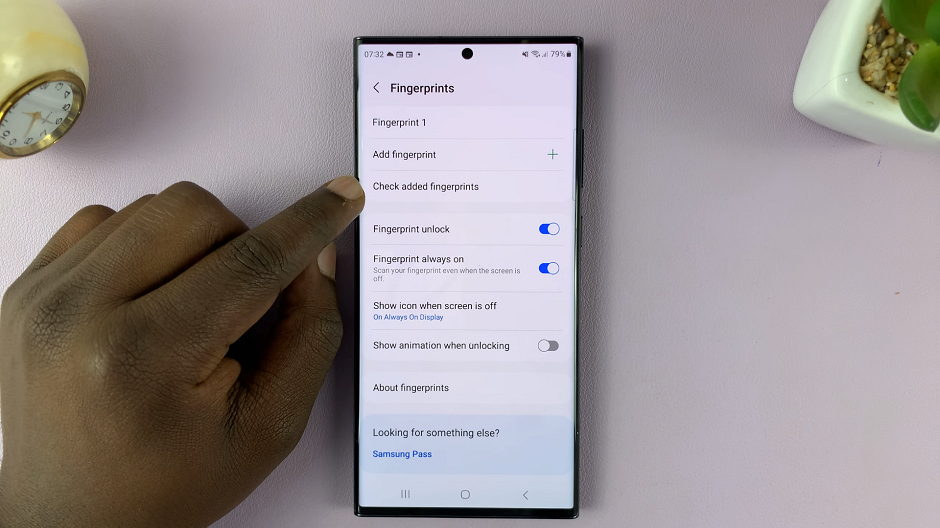 Once authenticated, you'll be presented with a list of fingerprints you've added. Each fingerprint will be represented by a distinct name or label that you assigned during the setup process. Find the Check Added Fingerprints option.
Tap on Check Added Fingerprints and test all your fingers. The ones that have not been added will read No match, but the added fingerprints will match and tell you what name they're labelled as or saved under.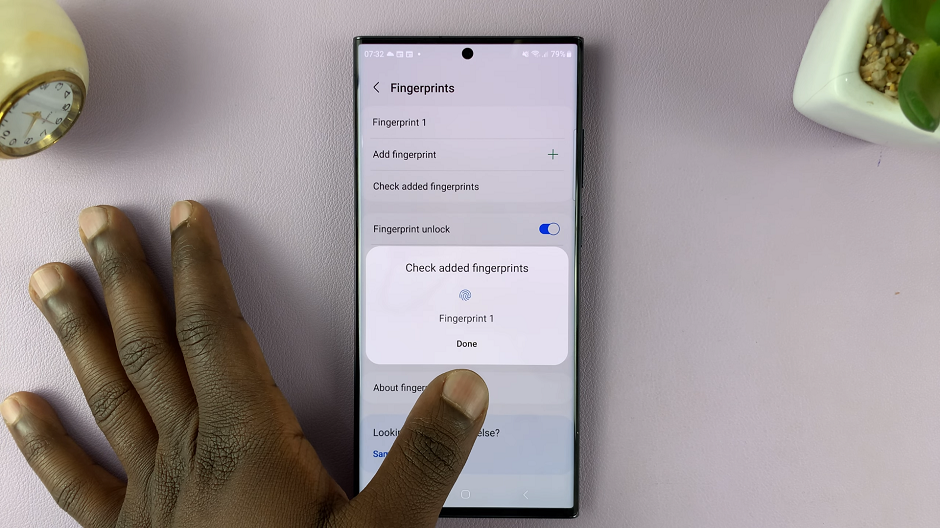 In a world where technology evolves at a rapid pace, staying informed about your device's security features is essential. By mastering this simple yet significant skill, you can confidently harness the power of the Samsung Galaxy S23's biometric technology and make the most of its advanced security capabilities.
Watch: How To Change Grid Size Of Home Screen Folder On Samsung Galaxy S23, S23+ and S23 Ultra