If you're looking to change your lock screen pattern on your Samsung Galaxy A24, follow this comprehensive guide for step-by-step instructions.
The lock screen pattern is an essential security feature on your Samsung Galaxy A24. It not only protects your device from unauthorized access but also adds a personal touch to your smartphone.
If however, you've divulged your screen lock pattern to other people that are not ideal, you can always change it. You can also change the pattern regularly to keep your security up-to-date and fresh.
Read: How To Hide Your Wi-Fi Network
Change Lock Screen Pattern On Samsung Galaxy A24
Unlock your Samsung Galaxy A24 by using your current lock method (PIN, pattern, or password).
Go to the Settings menu, via the Settings app or using the gear icon located at the top right corner of the shortcuts panel. Once you are in the Settings app, scroll down and tap on the Security and Privacy.
Under Security and Privacy, select the Lock Screen option and tap on Screen Lock.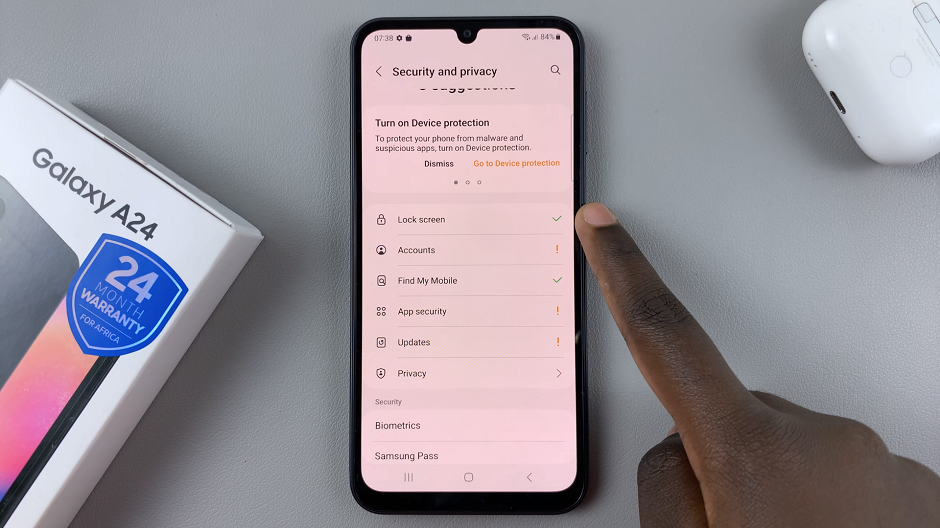 You will be prompted to enter your current lock screen to gain access, so draw your pattern. This will take you to a screen where you can customize your lock screen settings.
In the Screen lock type page, you will see several lock screen options such as Swipe, Pattern, PIN, Password, and Biometrics. Since we want to change the lock screen pattern, tap on the Pattern option.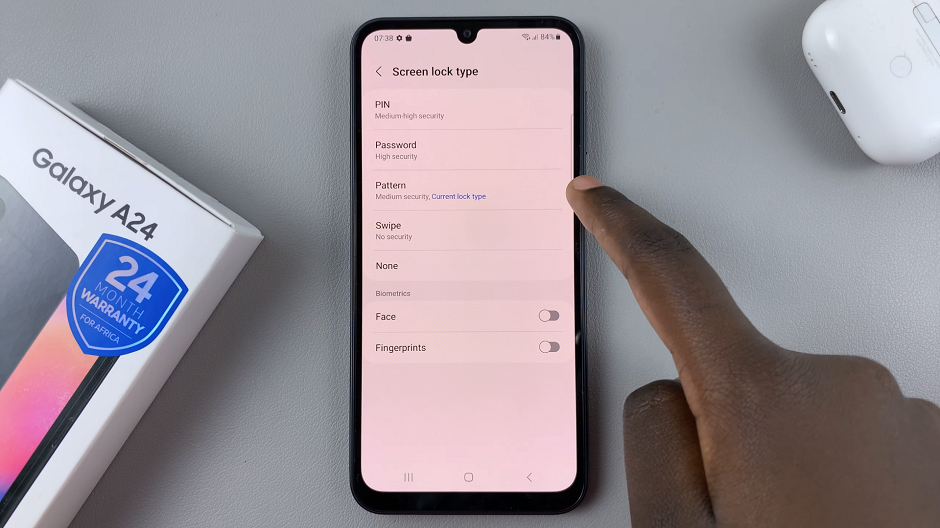 Once you have selected the Pattern option, you will be asked to draw your new pattern. You will need to draw a pattern that consists of at least four dots and connect them in a specific order.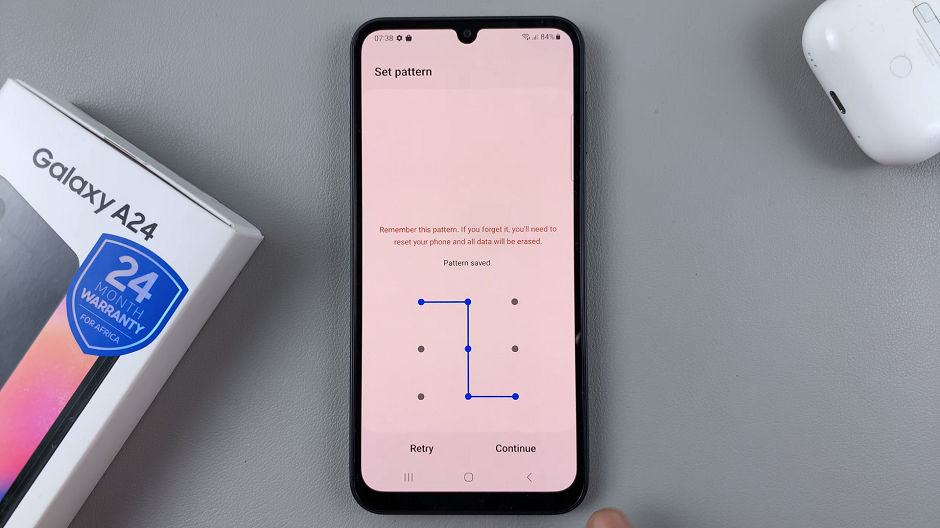 After you have drawn your new pattern, you will be asked to confirm it by drawing the pattern again. Once you have confirmed your new pattern, tap on the Confirm button. From now on, you will need to use your new pattern to unlock your device.
Finally, lock your device by pressing the power button. When you wake it up, you should see the new lock screen pattern in action. Draw the pattern to unlock your Samsung Galaxy A24.
Congratulations! You've successfully changed the lock screen pattern on your Samsung Galaxy A24. You now have an added layer of security and a personalized touch to your device.
Remember, it's essential to choose a pattern that is easy for you to remember but difficult for others to guess. Avoid using obvious patterns like simple shapes or letters.
In case you ever forget your pattern and need to reset it, you can do so through the device's settings using your backup PIN.
By following these steps, you can keep your Samsung Galaxy A24 secure while enjoying a customized lock screen pattern.
Remember, security is paramount, so make sure to regularly update your lock screen method and avoid sharing it with others.
Watch: How To Ping iPhone 15 & iPhone 15 Pro From Apple Watch