On Android, you're not restricted to a single messaging application. If you don't like the pre-installed messaging app, you can download a third-party application from the Google Play store. Once done, you can set it as your default messaging application.
Changing the messaging app will not delete your existing messages on your device. All the messages will show up in the new messaging application once you switch to it. However, you will not be able to use other messaging applications when a different app is set as default. Follow the steps below to successfully change the default messaging app on your Samsung Galaxy A14.
Watch: How To Save Photos & Videos To SD Card On Samsung Galaxy A14
Change Default Messaging App On Samsung Galaxy A14
Firstly, you need to install your preferred messaging application on your Samsung Galaxy A14. On the home screen tap on Google Play Store, and search for your messaging application. Once you find your favorite one, tap on Install to download it.
Once installed, go to 'Settings' and tap on 'Apps'. At this point, you'll see all the applications installed on your Galaxy A14. On the top of the page, tap on 'Choose default apps', then select 'SMS app' from the menu that appears.
At this time, choose the messaging app you'd like to set as your default app from the list of options available. Once selected, you can close that window and the changes will be saved on your device. The application that you choose will be the one that you'll use to send and receive text messages.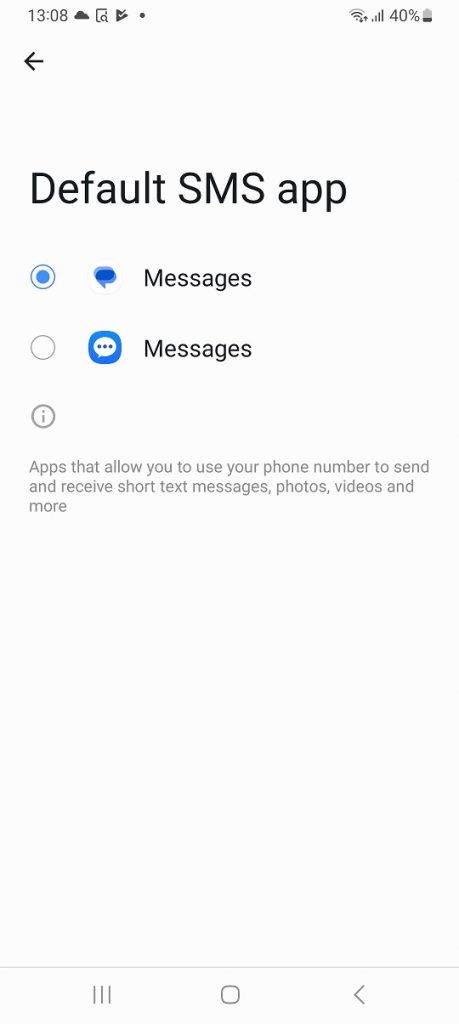 And that's how to go about it. Let us know in the comment section if you have any questions or suggestions. If you found the article helpful, consider sharing it with your friends.
Read: How To Tell If Someone Screenshots Your Instagram Message