Google chrome flags are experimental features lying in your Google Chrome browser that enable and disable some functionalities in your browser.  These features have not been bundled together with your browser because they are still Experiments. These advanced experimental features are hidden from the main Google Chrome interface because they have not been approved by the Google team as stable and safe enough to be part of Google chrome for all users.
You do not need these features to smoothly run Google Chrome. Google Chrome has enough features already to make it the best browser on the web. Chrome flags are simply additional experimental features.
NB: When Google want to add a new feature, they will just add it with an update that happens behind the scenes.
WARNING : I have already mentioned that these features are experimental. And you already know experiments can sometimes bite! Google chrome has gone out of its way to Caution you that these are experimental features that might harm your computer, compromise you security and privacy or hamper your ability to browse smoothly.
How To Access Google Chrome Flags:
To open this list of experimental features,  copy and paste this url : chrome://flags   in the address bar of your browser and press enter or tap OK in Google chrome for mobile.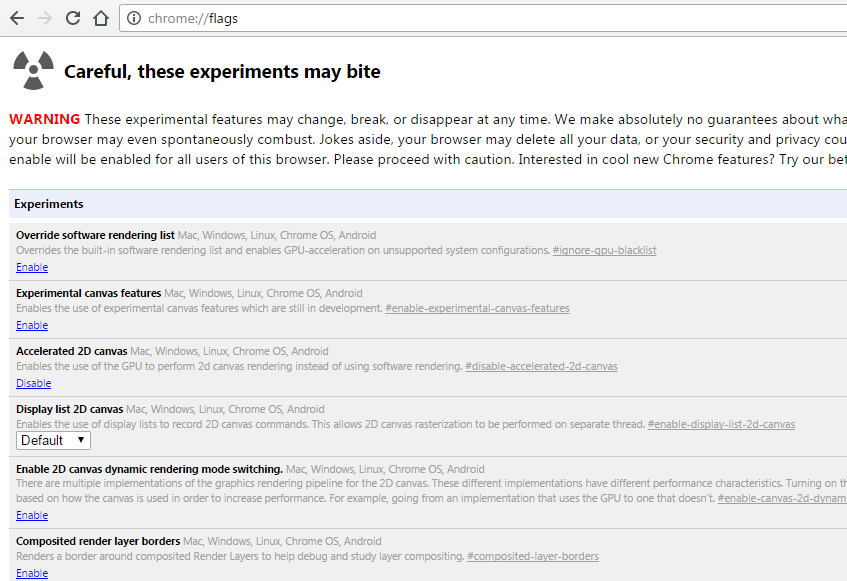 Also Read: How To Launch Google Chrome In Safe Mode
On this page,  you can enable and disable these experimental features. You will have to relaunch your browser for the change to take effect.  Most of the experiments are meant to be good and fun to work with. But always take caution and remember that they are just Experiments. These Chrome flags can also change, appear and disappear at any time.
Chrome Flag Problems:
If you encounter trouble while using a Chrome flag,  you can always return to the page and disable that particular flag(feature). If you have played around with several flags and can't figure out which one is troublesome, there is a button at the top of the page just below the warning to 'Reset All To Default' or restart Chrome in Safe mode.
Also Read: Create Your Own Button To Restart Chrome