There's a ton of YouTube videos that need to be watched at a slower speed to comprehend what exactly is happening. A good example is a dance video where you want to get the moves right so you need to watch it at a slower speed.
YouTube allows users to watch videos at up to a quarter of the original speed. That's .025X of the original video speed.  To do this, open the video in the YouTube website.  As the video is playing,  click on the cog wheel icon and select 'speed'.
The default speed is normal. Select 0.75,  0.5  or 0.25 speed to play the video.  All these are slower than the normal video speed.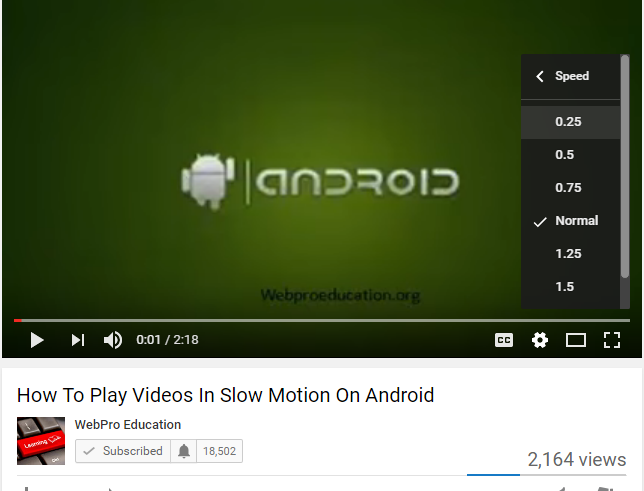 You'll also notice that you can make the video play faster from between 1.25 and 1.5 times faster than the normal speed.
How To Watch YouTube Videos In Slow Motion on a Smartphone:
Unfortunately the smartphones apps for YouTube don't have the slow motion feature. Even the mobile version of the YouTube website does not support slow motion.
If you really have to watch that video in slow motion from your mobile, follow this process.
Install VLC media player on your device and make it the default media player. (VLC media player can play videos in slow motion on mobile. (See video)
Open the video in your mobile browser and request the desktop site.
From the desktop site on mobile, you'll be asked to play the video via a media player installed on your phone when you tap on Play.
Select VLC if requested to choose. The YouTube video will start playing in your smartphone via VLC media player. Then you can make it play in slow motion.