In this article, we'll walk you through the steps to effectively use wireless power sharing on your Samsung Galaxy Z Flip 5. Wireless Power Sharing is also referred to as Reverse Wireless Charging.
In the ever-evolving landscape of smartphone technology, Samsung continues to push the boundaries with its innovative features. One such feature that has garnered attention is wireless power sharing, available on devices like the Samsung Galaxy Z Flip 5.
This functionality allows users to share battery power wirelessly with other devices, making it a handy tool for staying connected without the need for cables.
Read: How To Screenshot Cover Screen On Samsung Galaxy Z Flip 5
Use Wireless Power Sharing On Samsung Galaxy Z Flip 5
Before you embark on sharing battery power with other devices, ensure that the wireless power sharing feature is enabled on your Samsung Galaxy Z Flip 5. Follow these simple steps:
Swipe down from the top of the screen to reveal the notification panel and tap on the gear icon to access the Settings menu. You can also access the Settings via the Settings app in the app drawer.
Scroll down and select Battery and Device Care.
Within the Battery and Device Care settings, you'll find the option for Wireless Power Sharing. Tap on it.
Next, toggle the switch next to Wireless Power Sharing to enable the feature. You'll notice that the Galaxy Z Flip 5's display shows a confirmation that wireless power sharing is active.
You can also enable the feature from the quick settings menu, when you tap on Wireless Power Sharing. If it isn't available, you can add it there.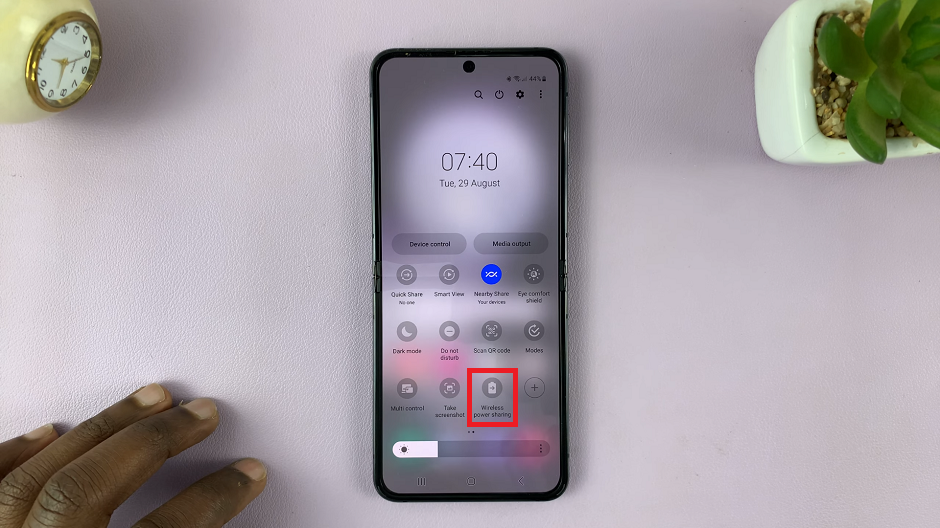 Charge Devices
With wireless power sharing enabled, you're ready to start sharing battery power with other devices, as long as the battery limit is above 30%. Here's how:
Place the Samsung Galaxy Z Flip 5 on a flat surface with the screen facing down or flipped shut.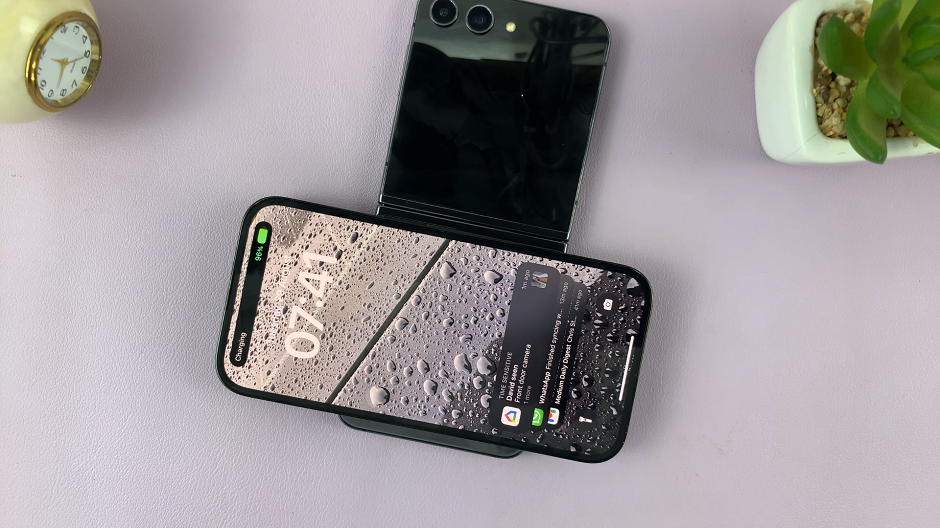 Ensure that the device you want to share battery power with is Qi-compatible. Most modern smartphones and accessories, such as wireless earbuds and high-end smartphones, support Qi wireless charging.
Flip the compatible device over so that its back is facing the bottom part of the Galaxy Z Flip 5. Align the devices so that they are touching or in close proximity, back-to-back.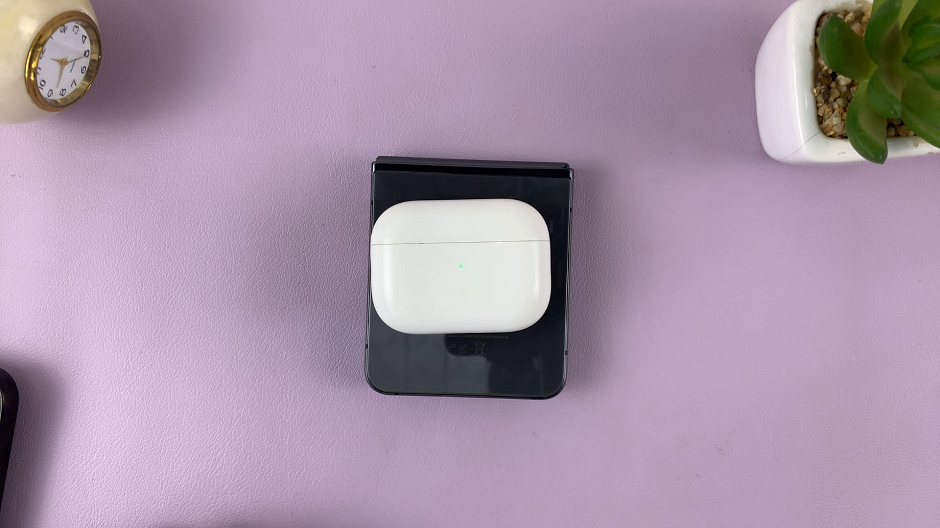 Once the devices are properly aligned, the compatible device should also display a charging indicator.
Tips for Effective Wireless Power Sharing
To make the most of the wireless power sharing feature and ensure efficient charging, consider these tips:
Proximity: Make sure the devices are properly aligned and placed in close proximity to each other for optimal charging.
Case Compatibility: If your Galaxy Z Flip 5 is in a case, it might affect the efficiency of wireless power sharing. Consider removing the case for better connection.
Battery Levels: Keep an eye on the battery levels of both devices. While sharing battery power can be convenient, it's essential to strike a balance to avoid completely draining one device.
Device Placement: Avoid moving the devices while they are connected for wireless power sharing to prevent interruptions in charging.
Optimal Conditions: Wireless power sharing works best in a well-lit and interference-free environment. Avoid placing the devices on metal surfaces that might interfere with charging.
The wireless power sharing feature on the Samsung Galaxy Z Flip 5 presents an exciting way to share battery power effortlessly with other devices. By following these simple steps and considering the tips mentioned above, you can make the most of this innovative functionality and stay connected without the hassle of cables. Embrace the future of wireless technology and empower your devices to charge seamlessly whenever needed.
Watch This: How To Allow / Block Pop Ups In Samsung Internet On Samsung Galaxy Z Flip 5