Cortana is a great assistant for Windows 10 users. It's unclear whether it's a direct rival to Siri on Macs but the fact is, it does a great job on your Windows 10 computer.
The problem with Cortana is that it only works when your screen is unlocked. So even for simple commands like checking the weather and your calendar, you have to physically unlock your computer to give it commands which kind of beats the purpose.
Fortunately you can put Cortana on your Windows 10 lock screen so that you're able to give voice commands without touching the computer. That's a convenient use of a voice assistant.
How To Use Cortana On a Locked Screen
To use Cortana with your Windows 10 screen locked, go to Settings– Cortana and toggle on Use Cortana even when my device is locked.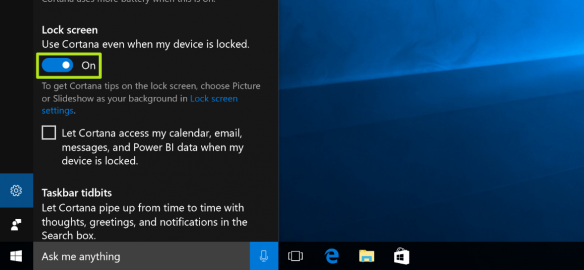 This will allow you to give Cortana instructions and commands even when your screen is locked. And cortana will respond with actions or through voice.
You however need to be careful with this because anyone can now talk to Cortana and give instructions. If the voice assistant is able to access your personal information like your Emails, this could be a security concern.