With the release of the iPhone 15 and iPhone 15 Pro, Apple has introduced several new features and improvements to enhance the user experience. One such feature is the ability to type requests to Siri, Apple's virtual assistant.
This text-based interaction with Siri can be incredibly useful, especially in situations where speaking to your device may not be convenient or when you prefer a more discreet way to communicate with your digital assistant.
In this article, we will guide you through the steps to effectively type requests to Siri on your iPhone 15 and iPhone 15 Pro.
Watch: How To Send Audio Messages With Your iPhone 15
To Type Requests To Siri On iPhone 15
Firstly, you need to enable Siri on your device. To do this, go to "Settings" > "Siri & Search" > "Listen For." Once Siri is enabled, you need to turn on the "Type To Siri" option. Simply go to "Settings" > "Accessibility" > "Siri" > "Type to Siri." Tap the toggle icon to the ON position.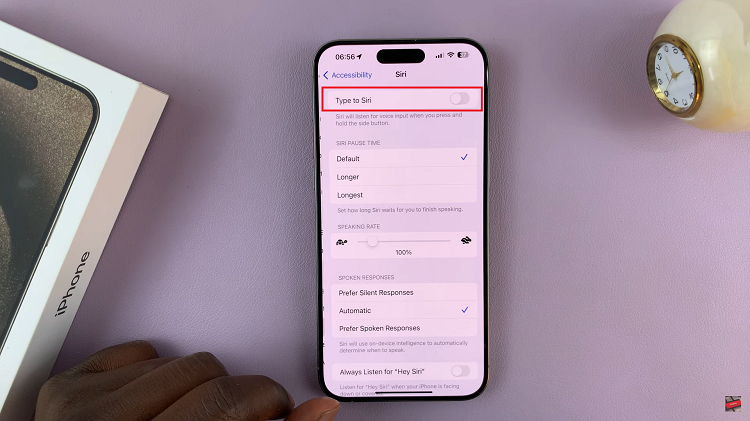 At this point, press and hold the side key to enable Siri. Now, After activating Siri, you can begin typing your request directly on the Siri interface. Tap the text field at the bottom of the screen and start typing your question or command. Siri will process your typed request and provide a response.
In conclusion, typing requests to Siri on your iPhone 15 or iPhone 15 Pro is a valuable addition to Apple's virtual assistant. It offers more flexibility, privacy, and accessibility in how you interact with your device. Let us know in the comment section below if you have any questions or suggestions.
Read: How To Turn ON Do Not Disturb Mode On iPhone 15 & iPhone 15 Pro