The Samsung Galaxy A14 is a popular Android smartphone that offers users a range of features and functions. However, one feature that some users may find annoying is the charging animation that appears on the screen when the phone is being charged.
Fortunately, it is possible to turn off the charging animation on your Samsung Galaxy A14. It is a simple process that can be completed in just a few steps. By following the instructions below, you can quickly and easily turn off this feature if you find it to be annoying or distracting.
In this article, we will show you how to do it.
Read more: How To Change Flashlight Brightness On Samsung Galaxy A14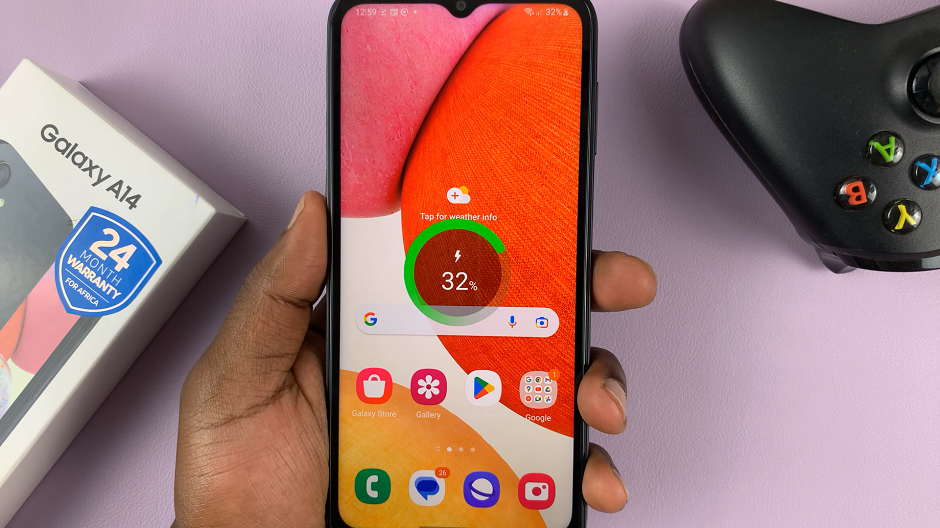 Disable Charging Animation On Galaxy A14
Step 1: Access the Settings Menu
The first step in turning off the charging animation on your Samsung Galaxy A14 is to access the Settings menu. To do this, swipe down from the top of the screen to open the Notification panel. Then tap on the gear icon to access the Settings menu.
You can also find Settings in the app drawer.
Step 2: Navigate to the Accessibility Menu
Once you are in the Settings menu, scroll down until you see the Accessibility option. Tap on this option to open the Accessibility menu.
Step 3: Access the Remove Animation Option
Within the Accessibility menu, you will see a range of options related to your phone's Accessibility options. Look for the Visibility enhancements option, which should be located towards the top of the menu. Tap on this option to access the settings related to the remove animation.
Step 4: Turn Off the Charging Animation
Once you have accessed the Remove animation settings, you will see a toggle switch that allows you to turn the animation on or off. Simply toggle the switch to the off position, and the charging animation will no longer appear on your phone's screen when it is being charged.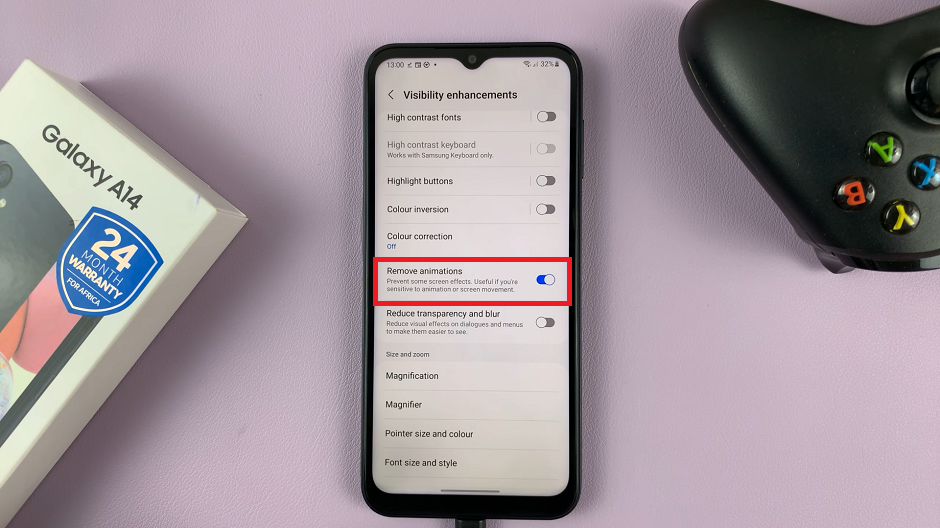 Any other animations that appear on the screen will also be turned off as a consequence as well.
Step 5: Exit the Settings Menu
Once you have turned off the charging animation, simply exit the Settings menu. Tap on the back arrow or use the swipe gesture. Your Samsung Galaxy A14 will now no longer display the charging animation when it is being charged.
If you ever want to turn the animation back on, simply follow these steps again and toggle the switch back to the on position.
Watch this: How To Enable / Disable Data Saver On Samsung Galaxy A14