You're composing an important work related email on a public holiday or at 3 a.m.  because that's the on;y time you have.  You really don't want to be sending professional work related emails at 3 a.m.
You also know too well, at 9 a.m.  on the day the email is required you won't be anywhere near a computer. So what do you do? You write the email and prepare all attachments if any. Then configure a Gmail scheduler to send the email at the exact time and date you want it sent.
How To Schedule Email:
Most email service providers like Gmail and Yahoo don't have a way of scheduling. You will have to involve third party tools to get this done.
Boomerang for Gmail is one such tool. Probably the best in terms of it's simplicity and diversity.  It's a browser extension for Chrome, Firefox and Opera that adds a 'Send Later' option in Gmail's compose Window.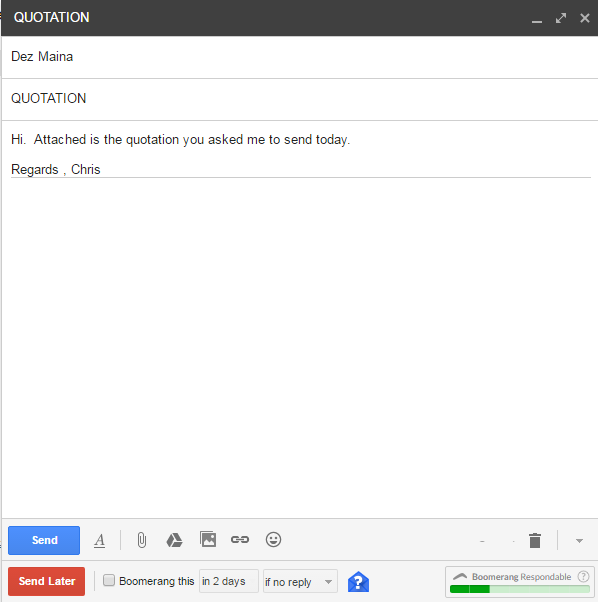 Once the extension is installed in your browser, go to Gmail and open the compose Window. You'll see the option to 'Send Later'. When your email is ready, click on 'Send Later' instead of 'Send'. Select the date ant time you want the email sent.
When using Boomerang for the first time,  you'll be required to grant the extension access to your Gmail account. This happens via a pop up window. You might be required to allows pop ups for Gmail.com website.
Boomerang will send the email at the time you specified regardless of whether the browser or actual computer you used to schedule the email is on. That's a very important feature. Boomerang can send out all your scheduled emails.
A boomerang icon will be added at the top of the Gmail website. This icon takes you to a page where you can see all your scheduled emails. You can edit scheduled emails and even re-schedule them as you wish.
Apart from the email scheduler, the Boomerang extension also has read receipts and a tracker to track clicks in the emails you send.

There's also a Boomerang responder tool that analyzes your email as you write to help you write better emails that are likely to attract a response.  You can ignore these extra features if you want.
 Microsoft Outlook: You can also schedule emails in a pop 3 email client like Microsoft Outlook. When sending an email via the client, go to the Delivery options and click on 'Delay delivery'.  Then select the 'Do not deliver before'  check box. Then select a date and time for the email to be delivered.
You can find all scheduled emails in the Outbox folder of Outlook. You can edit the email, reschedule by changing the 'send' date and send them immediately by un-selecting the 'Do not send before'  check box.
The main advantage of using Microsoft Outlook for scheduling email is because you can use it with any email service provider. Even the ones that don't support scheduling like Yahoo.
RightInbox is also a powerful email scheduler for Google Chrome users of Gmail. Install the extension in Chrome and the 'Send Later'  button will appear below the original 'Send Now' button. Unfortunately it's only for Chrome users.
How To Schedule Email on Mobile:
The Gmail and Yahoo apps for Android and iOS don't have a way of scheduling emails either. But there's a workaround.
Boomerang have an email app for Android users that allows you to schedule emails. It works well with Gmail.  All you need to do is sign in with your Gmail account and you can write emails and schedule them.
For iOS users, Boomerang have a mobile web interface that allows you to write and schedule email from your mobile device. Open this link via any web browser on your iOS device. Sign in with your Gmail account and start writing and scheduling emails.