In an era where smartphones have become an integral part of our lives, they continue to evolve and offer more functionalities than ever before. The iPhone 15 and iPhone 15 Pro, released with the latest iOS, are no exception. One of the incredibly useful features they offer is the ability to scan documents directly from your device.
Whether you need to digitize a receipt, capture notes from a whiteboard, or create a digital copy of important paperwork, scanning documents on your iPhone 15 or iPhone 15 Pro is quick and convenient.
In this article, we'll guide you through the process of how to scan documents on iPhone 15 and iPhone 15 Pro.
Watch: How To Turn ON Live Photos On iPhone 15
To Scan Documents On iPhone 15
To begin, unlock your iPhone 15 or iPhone 15 Pro and locate the Notes app on your home screen. Once you've launched the Notes app, create a new note by tapping the "+" icon in the lower-right corner.
Now that you're inside a note, tap on the camera icon. This icon is typically located just above the keyboard. From the options that appear, select "Scan Documents."
Hold your iPhone over the document you wish to scan. Ensure that the entire document is within the frame. The camera will automatically detect the edges, and you'll see a yellow box appear around the document. Now, tap the shutter button to capture the scan.
Once you're satisfied with the scan, tap "Save" to confirm your choice. If you have a multi-page document, you can continue to scan additional pages at this point.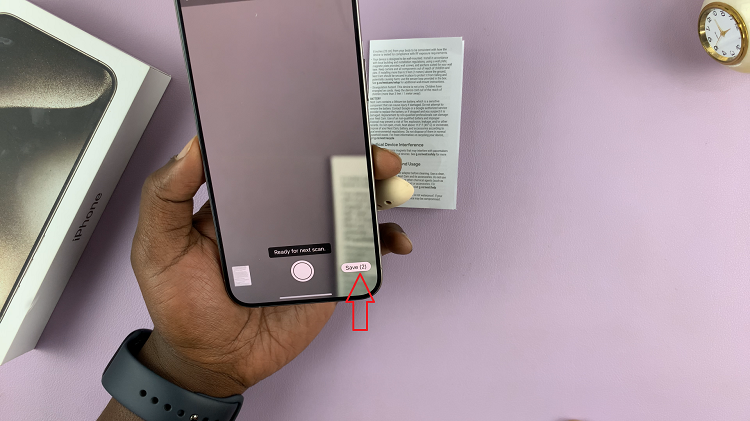 By following these steps with the assistance of transition words, you can efficiently scan documents on your iPhone 15 or iPhone 15 Pro. Let us know in the comment section below if you have any questions or suggestions.
Read: How To Use Built-In Compass On Samsung Galaxy S9 Tablet