Third party apps are usually capable of doing extra things on our accounts that you wouldn't be able to do. These are third party apps that we allow to access our online accounts like Facebook, Twitter,  Linkedin, Gmail e.t.c.  For instance, to delete all tweets in your twitter account at once, you need a third party tool.
While these tools and apps are good, we should not forget that they have gained access to your online account. Even after you finish doing what you wanted to do, these apps and tools continue to have access to your account until the access is revoked. Usually the access is limited and harmless.
However, these apps and tools could sell your data to marketing companies. With some access, these tools could also be used to study your behavior and online activities over time. This info can be used by malicious people to hack your accounts.
If left unchecked, you could find yourself allowing too many apps and tools to access different aspect of your online accounts. This is fodder for hackers.  It is therefore good practice to revoke access to unused third party apps and tools from your online accounts.  Here are links to revoke third parties from some popular online accounts.
Google Account:
Here is a list of all the apps and tools that have access to your Google account. It shows which part of your Google account is being accessed by which app. For example, in my list, Whatsapp has access to my Google drive account for weekly backups. I will ignore that.
But will will revoke access from 'Desktop notifications'.  An app I was testing a while back but I no longer use it. Simply click on it and select 'Remove'.
If I wish to use the Desktop notifications app again in future, I will authorize it again then.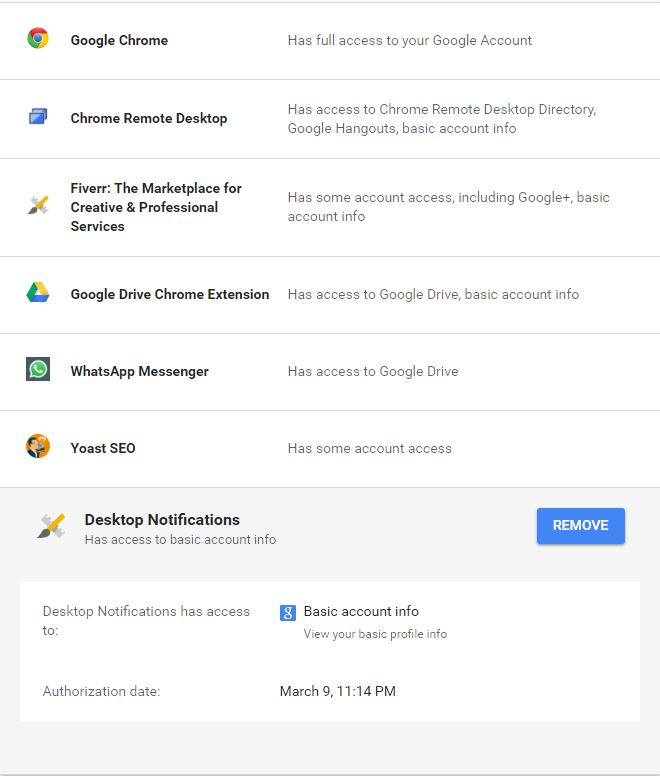 Facebook:
Go to the app settings page. Mouse over over the app whose access you want to revoke and click on the 'x'.
Instagram:
Go to the Authorized Applications page and click 'Revoke' on all the third party apps you want to disconnect from your Instagram account.
Twitter:
Head to your Apps page and click Revoke Access on any apps you no longer want to access your Twitter account.
Yahoo!:
Your Yahoo account might also have third party apps connected to it. Open the website connections page and 'Remove' the apps you want to revoke access from.
Linkedin:
Linkedin is a very important online account. To revoke access from useless third party apps, go to the  Permitted Services section and click Revoke next to any unwanted service.
Microsoft:
On the Apps page, click Edit next to the app you want to remove, then click Remove these permissions. The app will be completely disconnected with your Microsoft account.
Dropbox:
If you're using Dropbox as your cloud backup service,  the last thing you need is several unused or unknown third parties connected to your account.  Go to the 'Apps Linked'  page and click on the 'x' next to any app you want revoked.
NB: Revoked apps can be granted access in future if need be. Then they should be revoked when they finish doing their job.  Some apps should stay connected to your account if they are safe and are doing a continuos job.