In months leading up to the 2016 presidential election in the U.S there was a big problem with 'Fake News'.  A lot of fake stories and false propaganda was being circulated all over the internet; presumably to try affect the elections.
In fact the problem is so serious, the University of Michigan is reported to have created a one credit class called "Fake News, Lies, and Propaganda".
Facebook CEO, Mark Zuckerberg has come under fire with critics claiming he has not done enough to curb the menace a huge chunk of this false propaganda is being circulated through Facebook. He promised to address the issue in a Facebook post.
Now you can report Fake news when you see it on Facebook. All you need to do is click or tap on the menu icon on the right side of the Facebook post,  and select 'Report post'.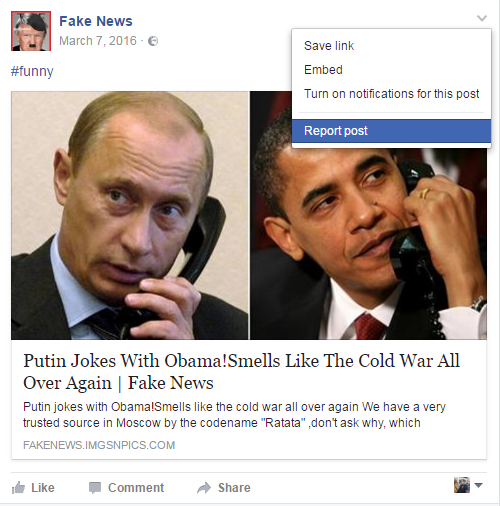 From the pop up window that appears,  select 'It's a Fake news story' as the reason why you're reporting it. You will be given an option to block future posts from that person or Facebook page.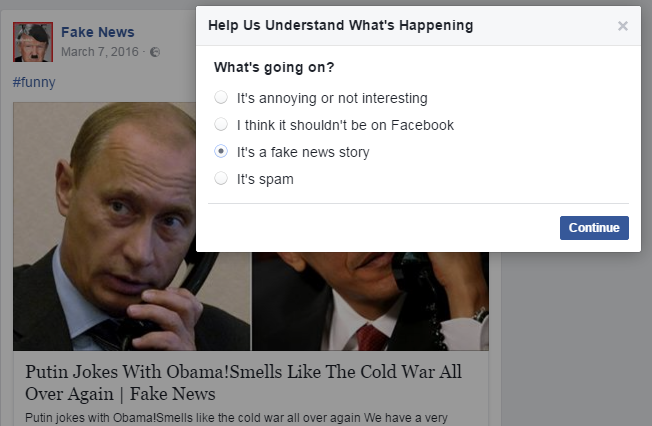 When Facebook receives enough 'Fake news' flags on a story, it is sent to third party agencies for manual scrutiny and fact checking. If found to be indeed fake,  it is removed.