Your Samsung Galaxy S9 tablet is a versatile device that caters to various aspects of your digital life. From browsing the web to staying connected with friends and family, it's an essential companion.
However, the default name assigned to your tablet may not always reflect your personal touch. Fortunately, Samsung allows you to change the name of your tablet easily, offering a way to personalize your device and make it uniquely yours.
In this guide, we'll walk you through the step-by-step process on how to rename your Samsung Galaxy S9 Tablet.
Also Read: How To Recover Deleted Contacts On Samsung Galaxy S9 Tablet
How To Rename Samsung Galaxy S9 Tablet
The first step is to open the "Settings" app. In the Settings menu, scroll down until you find the "About Tablet" option. Within the "About Tablet" menu, you can identify the device name by its placement in the list. It's usually displayed prominently. Underneath the device name, you'll notice an "Edit" button. Tap on this button to initiate the renaming process.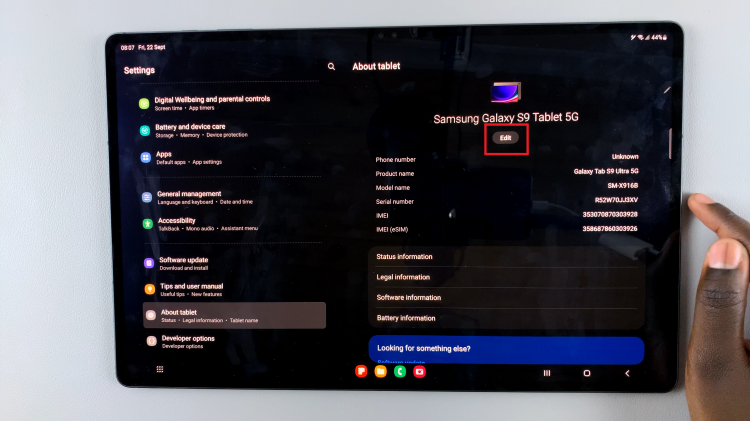 A text field should appear, allowing you to enter a new name for your Samsung Galaxy S9 tablet. You can use this opportunity to be creative or choose a name that helps you identify the device better. Once you've entered the new name, tap "Done." After saving the new name, your Samsung Galaxy S9 tablet will update with the new name you've chosen. To confirm the change, you can exit the Settings app.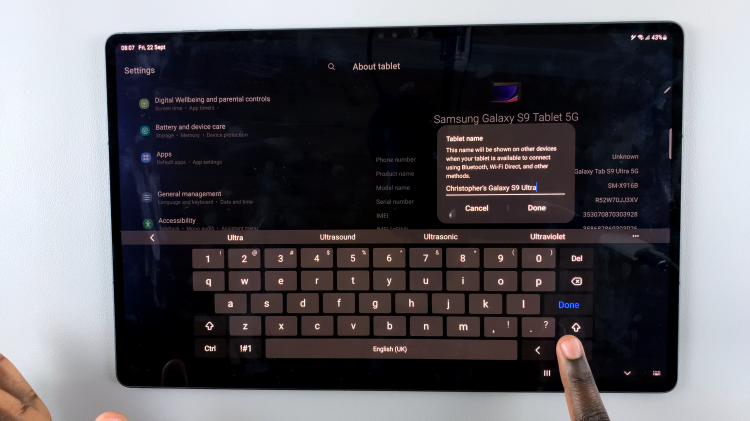 Renaming your Samsung Galaxy S9 tablet is a simple process that can help you make your device more personal and easily recognizable on your network. With just a few taps in the Settings app, you can give your tablet a name that suits your style or makes it stand out.
Watch: How To Change Date & Time On Photo On Samsung Galaxy S9 Tablet