Not too long ago, I wrote an article on the simple ways you can split a pdf document without paying for or using Adobe acrobat. In today's article, we are looking at how to combine pdf documents into one. Merging pdf files is a simple task and can be done easily for free.
Online Tools:
The easiest way to merge PDF documents is by using online tools. There's a plethora of pdf mergers on the internet.  Simply go to your facorite search engine and search 'merge pdf'. You should see several online tools.
My favorite online pdf merger is PDFMERGE. From the same creators of the PDF Split tool I discussed earlier.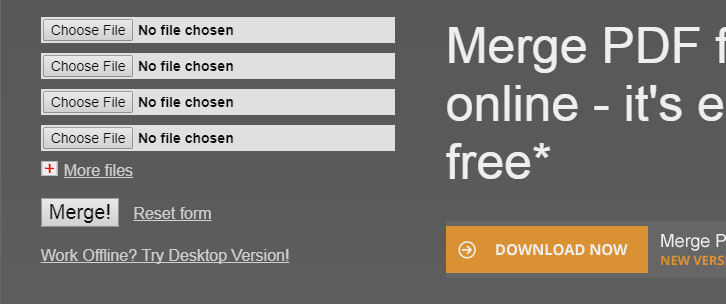 Upload the PDF files you want to combine (merge) by clicking on the 'Choose File' button. This tool can merge more than 10 pdf files at a go. When  you dinish selecting the files,  click on 'Merge'.
When the tool finishes merging the documents into one, you can download it in a zip format. Use an unzipping tool like Winzip to extract the contents of the zip file.
PDFMERGE also have a desktop application you can download to your computer. The main advantage of a desktop version is that you can use it without internet connection.
Files are uploaded and download over a secure encrypted connection so you can be sure you'll be safe. If for some reason you don't trust doing this online,  then you can download the app and use it while offline. The online tool automatically deleted all pdf files after an hour.
Preview Tool (Mac Users)
Of course Mac users can also use the online tools via their favorite browsers to merge PDF documents. But there is a handy tool inside the operating system that can achieve this as well.
The preview utility used to preview files in Mac computers can be used to merge PDF documents. Open the folder containing the pdf files.  Right click on one of the files and select 'Preview'.
In the preview window, click on 'view' and select 'Thumbnails'  from the drop down menu. This will create a thumbnail frame on the left side of that preview window.  Drag the other pdf documents you want to merge into the thumbnail frame. Rearrange then in the order you want then click on 'Save'. The documents will be combined into one.
Third Party PDF Combiner:
The problem with third party software is that they have t be installed on your computer.  This poses the danger of malware and adware getting installed together with the pdf merger.  A few good applications you can trust include Nitro PDF, PDFSam and PDFill PDF Tools. Linux users can install PDF Shuffler.
The general guide is to launch the software,  select the PDF files you want to merge, organize them in your desired order then Merge.