Video: How To Increase Touch Sensitivity (Use Gloves) On Samsung Galaxy Watch 6/6 Classic
It is possible to increase the touch sensitivity (or use gloves) on your Samsung Galaxy Watch 6/6 Classic. This means that you can use gloves to operate your Samsung Galaxy Watch 6/6 Classic.
The Samsung Galaxy Watch 6 and 6 Classic are impressive pieces of wearable technology, offering a plethora of features for users. However, one common concern among users can be the touch sensitivity, especially in situations where gloves are necessary.
Whether you're an outdoor enthusiast, a healthcare professional, or simply living in a colder climate, knowing how to increase touch sensitivity on your Galaxy Watch can greatly enhance your experience.
Watch: How To Enable / Disable 'Touch To Wake Screen' On Samsung Galaxy Watch 6 / 6 Classic
Why Increase Touch Sensitivity?
The touch sensitivity of a smartwatch is crucial for smooth navigation and interaction with the device. However, certain circumstances, such as wearing gloves, can hinder this experience. For those who require gloves in their day-to-day activities, whether for work or weather-related reasons, learning how to optimize touch sensitivity is a game-changer.
Choosing the Right Gloves
Not all gloves are created equal when it comes to touch sensitivity. Capacitive touchscreens, which are used in most smartwatches, require materials that can conduct electrical charge. Look for gloves specifically designed for touchscreen compatibility. These gloves typically have conductive material woven into the fingertips, allowing them to interact with your watch's screen seamlessly.
This is not really necessary though if you cannot get your hands on such gloves.
Use Gloves On Samsung Galaxy Watch 6/6 Classic
Wake your Samsung Galaxy Watch 6 or 6 Classic and swipe up from the bottom of the screen to open the main apps screen. Tap on the Settings icon (usually represented by a gear).
Within the settings menu, scroll down and tap on Display. Next, scroll down and tap on Touch Sensitivity.
Here, you'll find a toggle button that allows you to enable and disable touch sensitivity. Tap on it to turn it on. This will increase touch sensitivity, allowing you to use gloves to operate your Samsung Galaxy Watch 6 or Watch 6 Classic.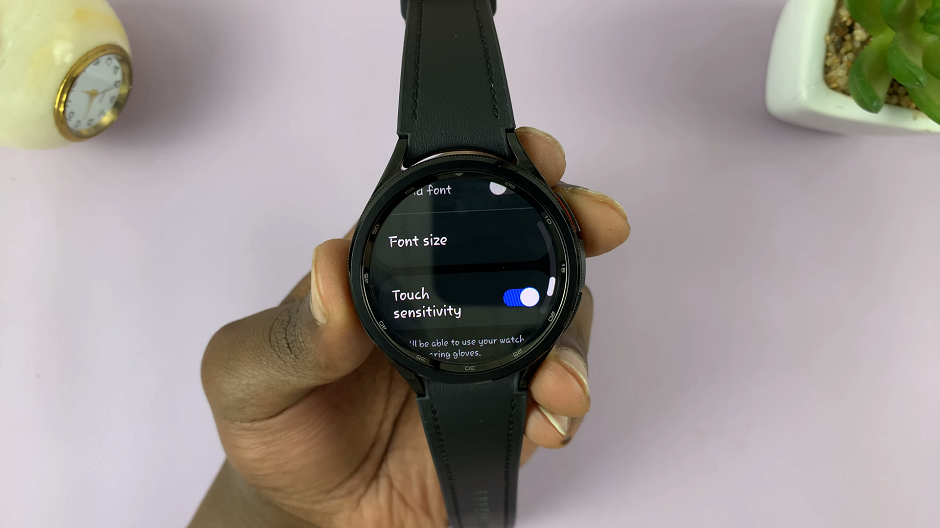 After making the adjustment, exit the settings menu. Put on your touchscreen-compatible gloves.
Interact with the watch to ensure the touch sensitivity has improved.
If you no longer want this option to be on, you can always turn it off.
Additional Tips for Optimal Touch Sensitivity
Keep Gloves Clean: Dirt and grime on your gloves can interfere with touch sensitivity. Regularly clean them to ensure optimal performance.
Check for Wear and Tear: Over time, touchscreen-compatible gloves may wear out, reducing their effectiveness. Replace them when needed.
Avoid Thick or Insulated Gloves: Thicker gloves, especially those with multiple layers, may still pose challenges for touchscreens. Opt for gloves with a thinner, conductive layer.
Ensure a Snug Fit: Gloves that are too loose may not provide the necessary contact for effective touchscreen interaction. Make sure they fit snugly without being overly tight.
Experiment with Different Gloves: Not all touchscreen-compatible gloves have the same level of effectiveness. Test different brands and styles to find the ones that work best for your Galaxy Watch.
By following these steps and tips, you can significantly improve touch sensitivity on your Samsung Galaxy Watch 6 or 6 Classic, even while wearing gloves. This simple adjustment can make a world of difference for users who rely on their smartwatch in various environments and situations. Enjoy a seamless and responsive experience with your Galaxy Watch, regardless of the conditions!
Read: How To Enable/Disable Power Saving Mode On Samsung Galaxy Watch 6/6 Classic