Our iPhones have become essential tools for staying connected with friends, family, and colleagues. With countless text messages flooding our devices daily, it's easy to lose track of important conversations amidst the sea of chats. Fortunately, Apple's iOS offers a convenient solution to keep essential messages within easy reach.
By pinning important conversations, you can ensure they always stay at the top of your chat list, allowing for quick access and preventing them from getting buried under newer messages. On the other hand, when the need to prioritize a conversation subsides, you can effortlessly unpin it, allowing it to resume its usual position in the message list.
In this article, we will provide you with a comprehensive guide on how to pin and unpin text messages on your iPhone with ease.
Also Read: How To Disable All Vibrations On iPhone
How To Pin & Unpin Text Messages On iPhone
Pinning Text Messages:
First, open the Messages app. Once you're inside the Messages app, actively navigate to the specific conversation you wish to pin. Next, long press on the conversation you'd like to be pinned. By doing this, a series of options will be revealed, tap on the "Pin" option.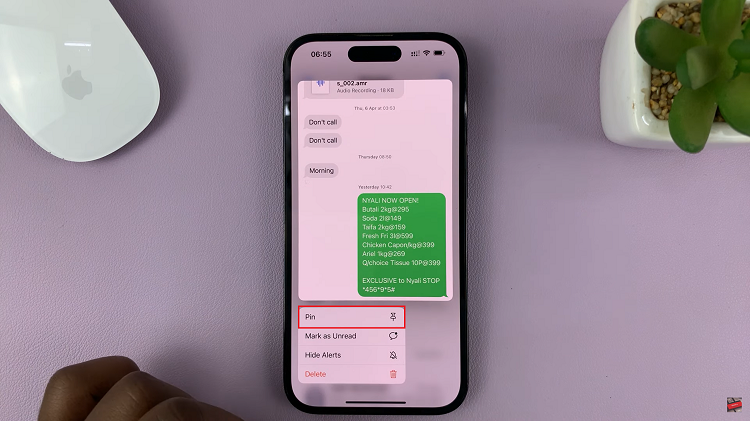 The conversation will now be pinned to the top of your Messages app. With the conversation pinned, you'll no longer have to search through numerous messages to find it. It will remain conveniently located at the top of your conversation list for easy access.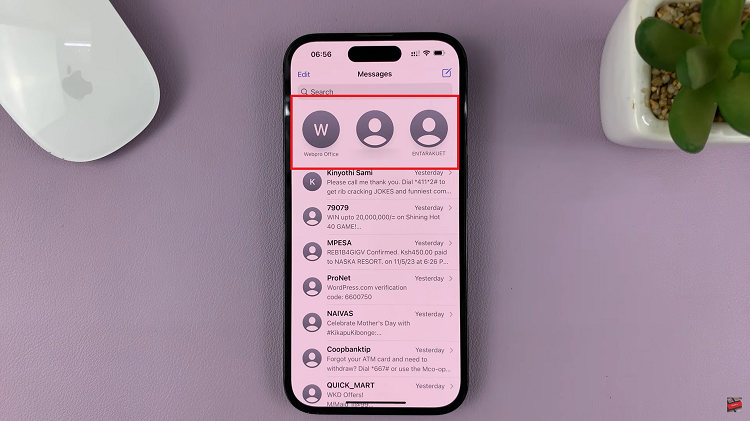 Unpinning Text Messages:
Open the Messages app on your iPhone. At the top of the conversation list, locate the conversation that you wish to unpin. Next, to unpin a conversation, press and hold the pinned message until a menu appears. This action will trigger a popup menu.
From the popup menu, tap on the "Unpin" option. When you unpin a conversation it doesn't delete it or make it inaccessible. It simply reverts it to its standard position in the list, making way for other important or recent chats to take priority.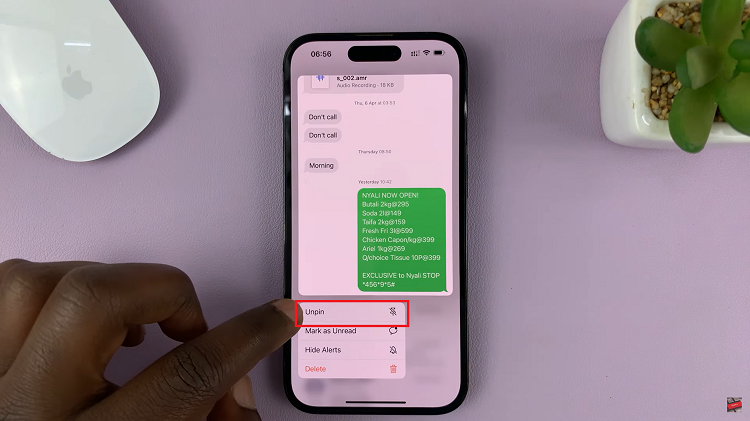 In conclusion, pinning and unpinning text messages on your iPhone is a practical way to keep essential conversations at the forefront of your Messages app. This feature streamlines your communication and ensures you won't miss crucial messages amidst a flood of other chats. So, use this guide to make the most of the pinning and unpinning functionality on your iPhone.
Watch: How To Add Favorite Contacts On iPhone