Just the same way different phones have different features is the same way hiding text messages in them is different.
Below let us have a look at how you can go about hiding text messages in both an iPhone and an Android phone.
How To Hide Text Messages
In An iPhone
There is no direct method for hiding text messages in an iPhone such that you select a message, swipe left or right and that's it.
However, there are techniques to ensure that your text messages cannot be viewed by unauthorized persons.
Hiding Alerts To New Messages
Alerts show a preview of your messages on the lock screen. To hide these, open your iPhone Settings and locate the Notifications option.
Under this, find the Messages option and change your settings to Never. Alerts will no longer show on your lock screen.
Disable Lock Screen Message Preview
In the latest versions of iOS, whenever you receive a message, a pop up window will appear on your lock screen showing an excerpt of the received message. You can even send a quick reply by swiping left.
This, unfortunately, can cause a breach of your privacy as anyone can view the message.
To disable this feature, open the Settings app and tap the Notifications option. Next, open Messages and scroll down to the Include option.
Next up, click on the Show Preview option to turn this feature off. This setting is set to be On by default.
Disable Lock Screen Message Notification
Once you disable this feature, you will no longer be notified when a message comes in. You will have to unlock your iPhone to view unread messages.
To disable it, open the Settings app, go to Notifications and under this, open the Messages option.
Scroll down to the Show on Lock Screen option and click on it to turn it off.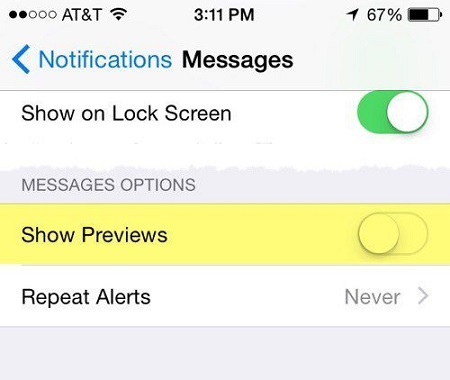 On Android
One way to hide your text messages would be to archive them. To do this, open the Messages app and identify the message you want to hide.
Tap and hold it and a list of options will appear. Tap the folder with a downward facing arrow and your message will be archived.
It is now hidden from plain sight.
GO SMS Pro App
This app allows you to password protect your messages, meaning not every Tom, Dick and Harry can open and read them.
Download and install GO SMS Pro app from the Play store.
As usual, identify the message you want to hide, tap and hold it and you will get a set of options displayed at the bottom of your screen.
Click on More and tap on the Move to private box option. Confirm your action by clicking on Confirm and that's it..