You might have some sensitive data on your device or you may want to keep your kids from looking at stuff they should not be looking at.
Or, you simply just want to keep your stuff private. For this reason, you may choose to hide your Apps on your Android device.
Let us have a look at how to do this.
How To Hide Apps In Android
By Disabling Your Apps
Go to your Settings menu, locate and tap the Apps option. Identify the app you would like to disable, open the app info page and tap on Disable.
A confirmation box will appear seeking to know if you are sure you know what you are doing. Tap on Disable once again.
Moving on forward, you will not be able to access the disabled app from the app drawer.
Please note that disabling some apps can cause system errors, therefore you need to be extra careful and sure about disabling apps on your device.
By Using An App Hiding App
This works for apps that are not pre-installed into your device. These you most often cannot disable so you may need a 3rd party app to hide them.
An example is App Lock which is simply not subtle that it's used for hiding your apps.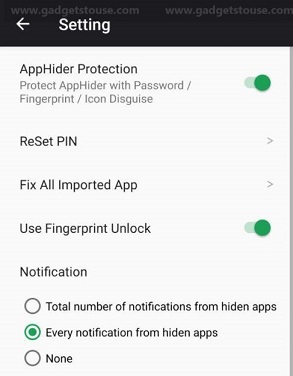 You will need to set up an access code to open this vault that will contain all the apps you don't want accessed by 3rd parties.
By Hiding Using A Secure Folder
This option is available in not all but some Android phones. You will need to set a pin code in order to access the folder.
For example, in a Samsung Galaxy phone, go the Settings menu and tap Biometrics and Security. Under this, locate Secure Folder, tap on it and Sign in Or Continue.
Assign to it a lock method and you are set. You can now view and access this folder under App drawer.
Now that this folder has been set up, you can now conveniently hide your sensitive apps within it from prying eyes.