Nothing is more frustrating than trying to do something online when the internet connection is down. The Google Chrome team knew this and did something great about it!
When you are using Chrome on PC or mobile, you'll see the 'There is no internet connection' page when your internet connection is down. This was unofficially the saddest page of Google Chrome until they made a great innovation out of it. A simple 2D dinosaur game.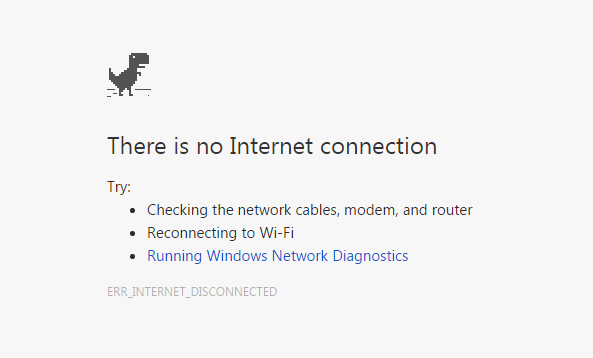 Have you ever wondered what that dinosaur on the page is for?  It's a game you can play while you wait for your internet connection to resume or stabilize.  If you have nothing else to do when your internet is down,  play this game! It will occupy you and reduce your anxiety.
To get started,  simply tap on the space bar on your computer or tap any empty space on the page if you're on mobile. The dinosaur will start moving towards the right side.  You have to press space bar or tap screen to jump and avoid the obstacles in the form of cacti that will be on the dinosaur's path.

The longer you keep moving,  the more obstacles you will have to avoid by jumping.  You will earn points as you proceed.  The simplistic nature of this game makes it easy to learn and enjoy.  You will momentarily forget about your internet connection.
Google have not released a link where you can find this game and play it whenever you want. But you can simply disconnect your computer or phone from the internet,  then try to load any page using chrome.  When 'There is no internet connection'  page appears,  you can start playing the game.  I hope you don't forget to work.