You created a blog on Google's blogger platform and now you no longer want it.  You want to get rid of it. Here is how to do it.
Blogs take time to create and when created,  they take time to get google, Alexa ranking and all the SEO juice required to drive free traffic to the blog.
Before you delete your blog,  think whether someone might need that blog.  You can transfer it to them completely and forget about it.
If you don't want to transfer your blogger blog to anyone, then you can delete it.  But before you do,  you might want to back it up in case you need it or some information in it in future.
How To Back Up a Blogger Blog:
Sign in to Blogger.
Click on the Blog you want to back up.
On the left side menu,  click on 'Settings'  then Click 'more'  to open more options.
In the "Import & back up" section, click Back up Content > Save to your computer.
An xml file with all your posts, pages and comments will be saved to your computer.
You can also back up your blog template. Go to the template page of your blog and click on 'Back up/Restore'.
Now that you have backed up your blog contents and template,  you can delete the blog.  Here's how to delete the blog on blogger.
How To Delete a Blogger Blog:
Sign in to Blogger. You must be the Administrator of a blog to delete it.
Select the blog you want to delete.
On the left side menu, select 'settings' then click 'more'  to open more options.
Under 'Delete blog'  click on the 'Delete Blog'  link.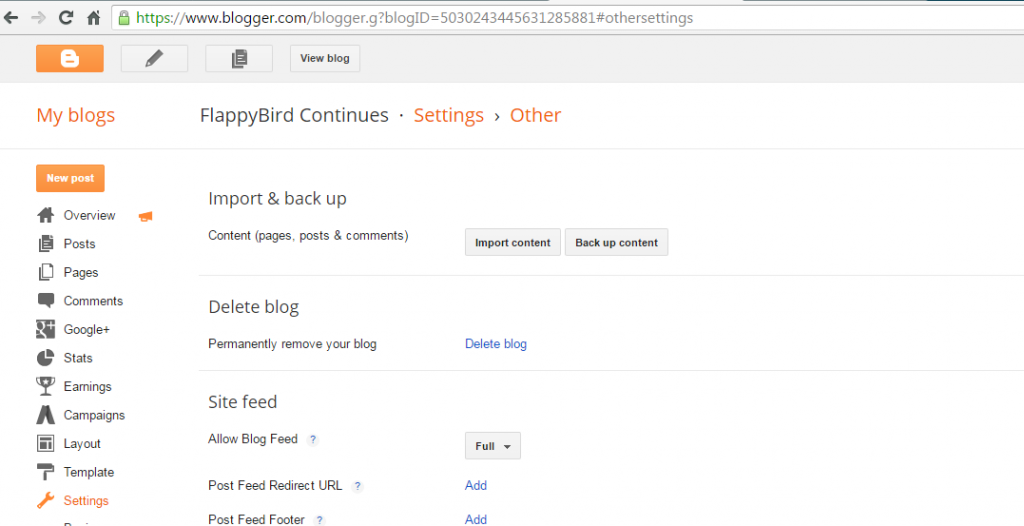 You blog will disappear immediately from viewers and from the internet.  However it remains in the Blogger servers for a few days after which it will be permanently removed.  During this time frame,  you can restore you blog if you change your mind.
Click on 'Deleted Blogs'  on the left side of you blogger dashboard. Select the blog you wish to restore and follow on screen instructions. If your deleted blog is not there,  then it has been permanently deleted from blogger servers.