We've all been there.  You get random emails from people trying to market their products and websites.
You wonder how they even got your address.
Sometimes it's Newsletters from websites you use but you did not subscribe for the newsletters. Or someone you don't want to talk to any more keeps sending you emails.
These are all unwanted emails that you want to stop receiving and in this article,  I will explain the best ways of blocking them so they don't appear in your inbox any more.
Unsubscribe:
You might have subscribed for a weekly or monthly newsletter from a website willingly or unwillingly.  Maybe you'll never know.  One thing you know now,  is that you are getting emails from them every other day and you no longer want them.
Simply open one of the emails and scroll to the bottom.  Usually, there'a an 'Unsubscribe'  link you can click on to unsubscribe from the newsletters.  It works.  You have to do this for all the different companies and websites that send you unwanted email.
The downside to this is that it may alert potential spammers that there is actually someone receiving their emails and this might prompt them to send you more mail even from different sources.
How To Block Emails in Gmail.
Another,  more effective way of blocking emails in Gmail is by blocking the email address of the person sending you emails.  This also works well where there is in 'Unsubscribe'  button at the bottom of the email.
Gmail does not have blocking features but there is a workaround using Gmail filters that will block any unwanted emails from your Gmail inbox.
With this method,  unwanted emails will bot be blocked at the server level but will be diverted to the trash can before they even reach your inbox. You will not even know an email was sent from that address. This is as good as blocking.
So sign in to your Gmail account,  ans click on this little arrow in the search box to open the search options window. Enter the search options you want.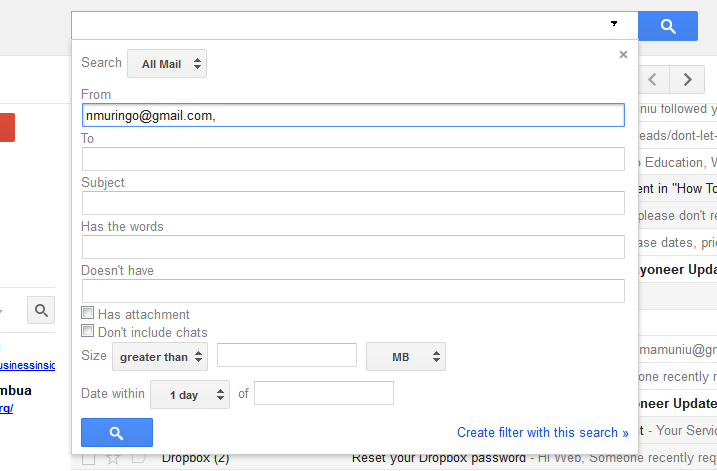 At this point, you should have copied the email address of the person you want to block and paste it in the 'From:' text box.  Then click on 'Create filter with this search'.
On the Filter creation page,  select the  'Delete it'  checkbox and click on Create Filter button at the bottom.  This will make all the emails from that email address be sent to the trash can immediately. You will not even notice that an email was sent.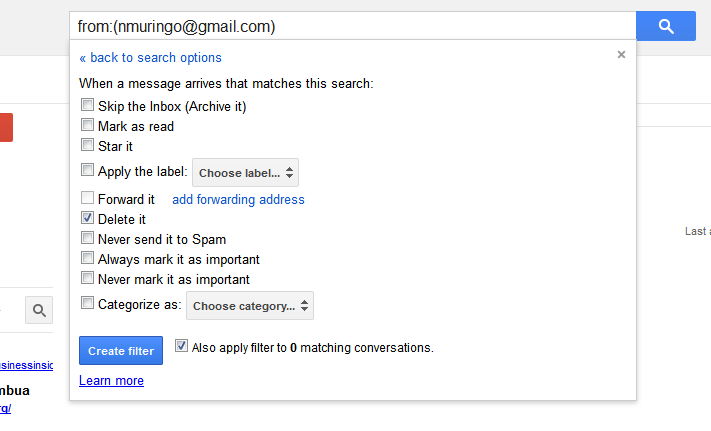 If you want to delete emails from that user that are already in your inbox,  check the checkbox next to the 'Create Filter'  button.
Gmail filters will also block emails that contain certain phrases or words that you don't like,  emails that don't contain certain words or phrases,  emails with or without attachments, e.t.c There are several other search options you can use to create filters for incoming email.