This error state mainly happens due to a system issue or a problem with the printer itself.
To remedy the situation, you will need to make a few changes in the system and carry out updates.
Make Ports Settings Changes
Open the Run dialog box by pressing Windows + R. Once open, type in devmgmt.msc and then hit the Enter button.
This will open the Device Manager. Now click on View at the top of the page and then select Show hidden devices.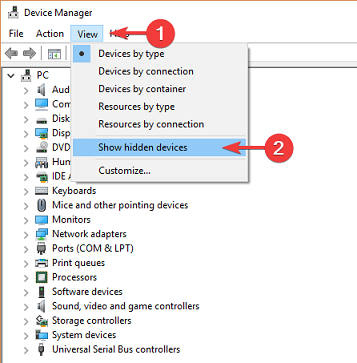 Under this option, click on Ports(COM & LPT) then select Properties. Under the Properties window, open Port settings and then select Use an interrupt assigned to the port.
Check the Enable Legacy Plug and Play detection box then click OK. Now go ahead and reboot your computer to see if the error state has resolved.
Check If The Printer Is Online
Open the Control Panel and then click on Devices and Printer. Select your Printer and if it is Offline, right click on it and select the Use Printer online option.
This should resolve the issue if the Printer is able to go online.
Reinstall The Printer Driver
To do this, open the Control Panel and select View by Large icons. Now open Devices and Printers and select your Printer.
Right click on it and go for the Remove device option. Confirm your choice and then restart your computer.
Once restarted, your computer should be able to detect and install the printer. If not, unplug and then plug it back in.
The error state should no longer be there.
Set The Printer Spooler Service To Automatic
Open the Run dialog box and type in services.msc the press Enter. Search for Print Spooler and ensure it is set to start.
Right click on it and then select Properties. Set Startup type to Automatic in the General tab, click on Apply and then OK.
Now close the Services window, restart your computer and check to see if the error has cleared.
Carry Out A Windows Update
Press the Start button then click on Settings. Under Settings, click on Update and Security then select Windows update.
Opt for the Check for updates option and if any, let your machine update then restart your computer. The issue should have resolved.