You are bound to get this error message when you turn on your device, awaken it from sleep or restart it.
This error appears in Windows 10 laptops, desktop computer and tablets and comes about when the Logitech Download Assistant searches for new device drivers and software updates.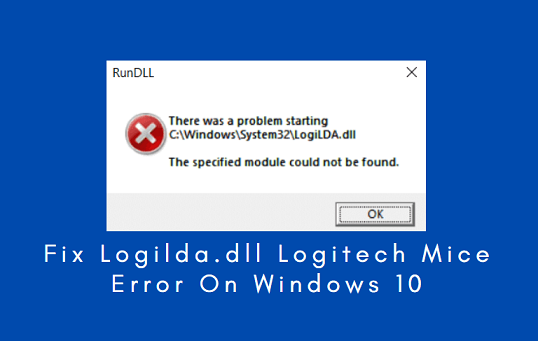 LogiLDA is a file used with programs like Logitech Download Assistant.
In case you need to use a Logitech gaming mouse or keyboard, you will need to install it and that is where LDA comes in.
In case of any problems in the search for device drivers and software updates, the error will occur.
How To Fix A LogiLDA.dll Error
Restart Your Device
A simple restart is the first method you need to apply in case of this error. Simply switch it off and then on again and the error should clear.
Update Your Device To The Latest Version
When you do this, you get to enjoy the latest goodies Windows has to offer in terms of features.
Additionally, your security is bound to be amped up and in the process of updating, the error may get resolved too.
Reinstall Mouse Drivers
We agreed at the beginning that this error can be caused by installed hardware like a gaming mouse.
Reinstalling its drivers should sort this out.
Open Device Manager under Settings and then click on Mice and other pointing devices.
Right click on the mouse name in question and go for the Uninstall device option.
Go ahead now and disconnect the mouse, restart your device and then reconnect the mouse for use once again.
Disable LogiDA
When you disable this Assistant, it will not automatically search for new device drivers on starting of the machine.
This way, you will not get the error. To disable, do the following.
Press Ctrl+Alt+Del and click on Task manager. From the displayed list , opt for Start up.
In the list of programs that appears, right click on LogiDA and then select Disable.
Uninstall Logitech Program
If the problem persists such that Windows LogiLDA.dll cannot start, you could always opt to uninstall the program.
Click on Start and go to All apps. Locate the Logitech program, right click on it and select Uninstall.
Install Logitech Gaming Software
Unlike the Logitech Download Assistant, this software will keep your hardware updated plus with it, you can customize your device functions.